Some 25 years ago, I came up with tiny application: each day, a person picks a color that represents his or her predominant emotional state; the collection of color moods are mapped onto a calendar and displayed as an animated film, summarizing the emotional life of person. It was simple and easy and very effective. And in some way, this was also part of the affective computing — computers that use emotion as part of HCI. [Note: This could and was done with watercolors as flip book some 40 years ago when I played in my art class in school.]
Affective Computing, I feel, is only recently became part of the "vocabulary" of computer-based developers. When I first started working in this field, graphics were non-existent, thus Pong.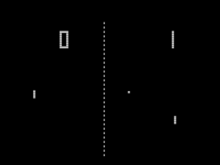 In the early nineties, my business partner and I met with the president of Organic, a web design firm in San Francisco, who promptly informed us that his business had no need for Interaction or Interface Designers, that's what graphic artists were for. Now, psychologists, sociologists, and sociologists are routinely hired by creative firms to help solve design problems. Times change!
There are a lot of posts on emotional design on this blog:
This is a very diverse list with an emphasis on product design — more general than Affective Computing. My main focus when I discuss emotion in design is that it is always there, whether by design or by accident. We, creatures of evolution, have always used emotion to guide judgement. Amygdala's response time is far faster than any reasoning process. Thus we tend to make an emotional judgement first and than try to reason out why we made a particular decision with logic. Emotion comes first, be it on a computing device or on a playground or choosing the next car we'll drive: emotion over reason every time.
And as product designers, we have to pay close attention to the working memory limitations — there's only so much to go around. Emotional thinking takes up working memory just as much as logical thinking. When we talk about why students do worse during test environments (as opposed to less stressful occasions), we are really talking about the diminishment of working memory for problem solving by using it for stress: "I'm so worried about his exam…my stomach hurts and my hands are wet…what was that problem again?"
When we do user testing for critical applications, we have to test in stressful, emergency environments as well as calm easy going scenarios. Nuclear emergency is very different from buying coffee — a worker trying to find an exit sign when the world is flashing red might not get out in time, might not figure the door affordances, might get stymied by the door handle.
Recently, Siri — the AI voice on iPhone 4 — has been demonstrating the importance of getting the emotional tone right for the computing device. For us, Siri is low-voiced female. For the French, it is a male guide. Cultural differences matter to emotional tone.
The focus on affective computing is not new. But the explosion of research and desire to find the right solution for the right product has grown in the last few years.
Interaction-Design.org put together a nice introduction to Affective Computing. Below is an introductory video from that chapter. Enjoy!