Pope Francis said an interesting and insightful commentary on online social media:
"The Internet, in particular, offers immense possibilities for encounter and solidarity… The speed with which information is communicated exceeds our capacity for reflection and judgement, and this does not make for more balanced and proper forms of self-expression. … The variety of opinions being aired can be seen as helpful, but it also enables people to barricade themselves behind sources of information which only confirm their own wishes and ideas, or political and economic interests."
In other words, communities have the power to limit the range of views to only those that they seems culturally appropriate — a small subset of active users can completely change the group dynamics of a community. The responsibility of the managers to find their way to create and sustain healthy communities.
I've been building and supporting communities for a while. It happened organically — I needed to help a client start a project and build a following around it; then another client needed something similar; after a dozen years (or more), I've found myself creating guidelines for communities and the people who help manage them. Below is some of my "wisdoms" from hands-on experience with what works.
Above all, be kind! It's very hard to read emotional states of others via an online message. What was meant as a short reply might come across as angry. If you run a community, you have a lot of power — power to ban a person or to delete a post; power to settle disputes; power to set the rules and culture for the discourse. With all that power comes responsibility — make sure you understand what people meant before banning them; provide guidance to those who help you manage the groups; approve and answer requests in a timely manner; support the brand of the community by supporting interesting conversations and providing people with tools to reach out to each other. And, most important, remember that a community stops being about you very fast. If people "take over" that means that they found a good place to be. To grow, a community needs to evolve. You are just there to do the grant work of keeping things going.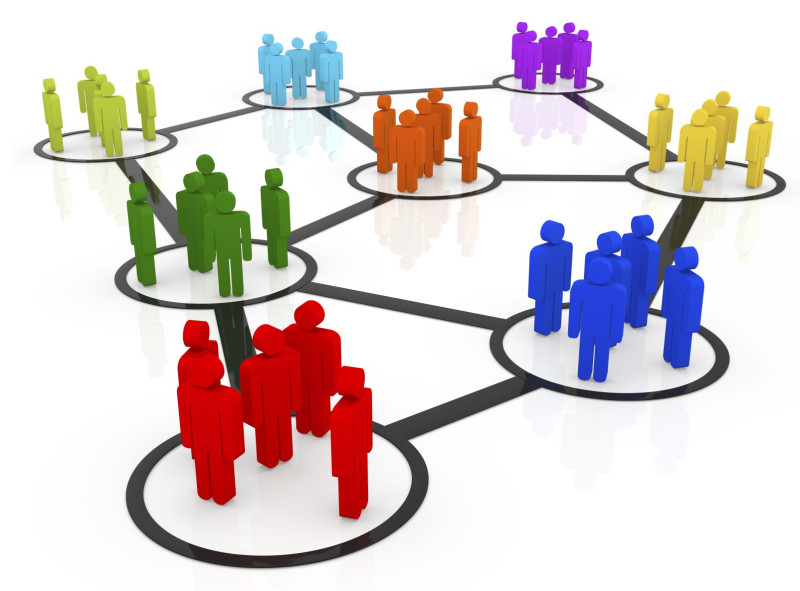 There are many more things that one can do to build and sustain online community, but here's a starter list.
1. Why?
This is the most important question an organization has to ask itself as it embarks on creating a community. Building and sustaining a community is hard work — expensive. So one has to be very clear on the goals for community.
Usually, creating a community for the sake of creating a community is not the desired endeavor. So it's good to start with answering the basic question: Business or Pleasure?
If creating a community is part of the business goals of an organization, then it is very important to not only understand those goals but to make sure that everyone shares that understanding. If the goal is really about sales and marketing, then the focus of the community needs to be centered on fulfilling those goals. And the success of running the community needs to be measure against those goals: Are we increasing brand recognition and awareness (in a positive light)? Are we generating more sales? Are we getting higher revenues per sale? Are out customers more loyal based on their experiences within our community?
Having a set of goals by which we can judge the success of any project is important. This is also true of project that focuses on community creation and building.
LinkedIn uses several variables by which to judge the success of a particular LinkedIn Group:
Membership: how many individuals are currently registered as members of the group?
Growth: how fast is the membership growing (per month)?
Member Type: LinkedIn provides a breakdown of the level of seniority by occupation of the different members in the group. The assumption is that the senior the better. But in reality, that might not be the audience that the group founders are looking for.
Activity: how active is the group based on the number of post and responses per day? Both measures are important — responses measure the level of conversation in a group — are people interested in the posts?
Longevity: how long has the group been around? They say there are thousands of blogs born every minute and at least the same number (if not more) die. But just as dead blogs stay around, dead LinkedIn groups keep hanging on — there is no severe penalty for keeping the group on LinkedIn. A small group can linger for years after the last post has been made, taking up space but providing no real benefit to its members.
2. Examples of Different Community Types
Supporting a Cause: Some communities form to help individuals come together and advance a jointly desired agenda. An environmental action group would be a good example or a neighborhood coming together to improve a local playground. In both cases there's a mission that is well understood by the members of the group. And once the mission is accomplished, the reason for group's existence goes away. Of course, some causes can be so large (ie. Save the Rainforest) that there is no effective end date to the mission. But in either case, the group's reason to be — it's "why" — is the mission statement: we come together to accomplish this goal and support this cause. This means at a minimum the "Support a Cause" group needs to support information dissemination, education, and planning & scheduling activities.
Interest: Some communities form around a product or an interest or a singular event. This is a very large category. People come together because they like a particular book or an author or literary genre (think book clubs); or they like to travel (travel clubs); or they all use the same system of software/hardware (Mac users group or World of Warcraft players); or it could be a cooking or gardening group. Even within these very broad categories of Interest-based groups there are subgroups — varied reading interests, different technological focus, a spectrum of abilities and geographic limitations… If the group is too broad, if it covers too much ground, it becomes less useful to its members and more difficult to manage for its organizers. For interest-based group, focus is very important to stay relevant to its members.
Alumni: People bond over interests, causes, and events — personal choices made in the past that introduced them to a community of like-minded individuals. A particular example of communities based on prior experience are "Alumni Groups". This is a broad category — it includes people who worked together, went to the same school (or who are still at the school), people who attended workshops or camps or events that were particularly meaningful, people who served together. The problem with Alumni groups is that different experiences were meaningful to people even as they went to the same school or event. What do alumni really have in common? How can this be shaped into a community spirit that endures?
I find it interesting that on LinkedIn, Alumni Groups are numerous and well-populated. But the number of actual interaction within those groups is low (in relation to membership). What do these people really want to connect over? Just nostalgia isn't going to do it. Such groups work well when they are broken down into farther subgroups based on Interest or Cause.
The differences among these three types of communities might be seen as minimal in some case: e.g. Is Burning Men Almni Group a "Cause Group"? An "Interest Group"? An "Alumni Group"? All three at once?
One more point about "Alumni Groups" — they are a "proof" that you belonged or were part of something. Using LinkedIn as an example again, consider all those "Alumni Groups" like Apple Employees, LucasFilm Employees, Ivy League College Alums, etc. People use these groups as badges of honor (in addition to remaining in contact). The brand of the company and university is "rubbed off" onto the people who worked or went to school there. But if the brand is bad, there's no "Alumni Groups"… Thus using the community to elevate the brand of the institution works in both directions.
People Google themselves all the time. There's a reason why Klout.com exists — we want to some tangible measure of our "influence", even if it is a very shallow measure. Group membership is one way we can raise our personal SEO on Google and on LinkedIn — this is not only for personal gratification, but rather as a way of raising our employment opportunities.
3. Tools doesn't equal Strategy
I recently got an email with a proposal for growing online community. The proposal listed Facebook, Twitter, Pinterest, and Google Analytics as bullet points for marketing strategy and community management. There was no mention of why and how these tools would be used to do this job. A list of tools is NOT the same thing as a strategy.
A strategy plan should sound something like:
"Our goal is to increase sales. We want more people to buy our products (more customers), we want each individual buyer to spend more each time they buy (higher ticket), and we want return customers (loyalty to brand). We propose to use Pinterest to create a detailed showcase for each of the products we are offering. We propose to use Twitter to make announcements of product updates and special events. We will use Facebook to allow our customers to comment on our special promotions, to discuss and recommend our products, and we want to provide recommendations and use scenarios for our customers about our products."
The plan, as outlined, shows how communities on Pinterest, Twitter, and Facebook will be used to support brand awareness and to advance sales.
The problem with setting up a strategic plan using multiple community platforms (Facebook, Pinterest, Twitter, etc.) is that it takes time to manage all of them. If community feels abandoned due to lack of available resources, then the brand suffers — if you don't care about your own community, customers, brand, then why should anyone else care? The Internet is full of abandoned communities — because they are hard. It's good to start small. It takes time to grow a healthy community.
4. Community Management Roles — What do these people do and why?
It takes a lot of time and energy to run a successful community. At some point, the community might get too large to be managed by just one person. People can be assigned to perform tasks at different levels of responsibility to help sustain a healthy community. It's important that everyone understands what they are supposed to do so people don't work at cross purposes.
Owners/Administrator: Individuals who either established the group or who have been designated with the group's superpowers! These are the group's administrators with absolute powers over group's existence. They can close the group. They can ban individuals from becoming members. They can remove a post or approve a post for the community. Depending on the system, administrators have more or less power over the group they run.
Moderators or Editors: If a group is very large, it helps to have a couple of people who are given "moderator" powers. These powers are not as powerful as those of an administrator, but powerful enough to support order. What exactly these powers are depends on the system. Most systems are very careful about describing the exact level of power for the different membership types.
Contributors: Most communities use "contributor" as their lowest level of membership. Thus every one in a group can post and share information. But some communities have more fine-grain membership types:

Approved Contributors — those individuals that have been pre-approved to post content to the group.
Moderated Contributors — those individuals that can post to a group but require approval from Moderators or Editors (or Owner).
Readers or Visitors — individuals who allowed by the group to see posts but who don't have the power to post themselves. Some groups allow this type of membership, some don't. Some allow such individuals to post a comment on an existing conversation, but not to start a brand new discussion.
Banned — individuals who have been specifically banned from a community. This mostly helps group managers to reduce the level of spam in group discussions.
I would like to add another category of membership — lurkers. This is a HUGE category — most individuals spend most of the time lurking — reading, browsing, sometimes "liking", but mainly staying safely in the background. Any community needs to be well meaning towards lurkers, because lurkers form the bulk of the audience for whatever content is served by the group to its members.
5. Levels of Interaction
Not all levels of participation in a community are the same. In addition to different roles, communities tend to allow multiple levels of interaction with individuals and content:
Scan the Headlines: The interaction with the least effort is scanning the list of posts. This can be done by visiting the group directly or by receiving the groups' digests. Hopefully, something will grab the interest of a causal browser and get them to click to see more. Thus we have the birth of headline bait — crazy headlines that catch attention with an intention of generating a click. In vogue, at the moment, are the one, two, three headlines: "5 Ways to Improve Your Sex Lives," "7 Ways of Lose Weight Fast," "9 Tips for looking Good." There is an endless supply of these on LinkedIn (here's an article I wrote about this some time ago).
Click: Some people do click to read more. A click, especially if there's time and good connection, doesn't result in a large investment — it the post is not interesting, it's easy to move away.
Like and Vote: The rise of "pat on the back" online culture has been staggering. People vie for "likes" and "pluses" and "thumbs up." It's a competition to get the most of these dubious markers of distinction. Some pay for "likes" — there are people whose jobs it is to gather those. But is it really worth it? How is advancing the goals set for the community? Voting is another, similar level of interactivity (like is just a vote up) — helps the group sort some items in some order. Not a statistical analysis by any means, but it could be fun for a group and allows those who rarely participate to try it out with just one click.
Comment: Some community members leave comments. There are long, thoughtful comments like book reviews on Amazon, and there are quick one-word responses (little more than another way of giving a virtual pat on the back). LinkedIn helps with auto-fill-ins for things like auto-generated posts: Congratulate Mr. Smith on 2 year anniversary of volunteering (option of both "like" and auto-fill-in of "Congrats!"). These "posts" are not really enough to sustain a community. Real dialog requires more than "likes".
Share: Another type of comment is a share — a way of sharing an article, for example, but it works for any information with its own web page. Some moderators and community owners insist that such shares need accompanying comment that explains why the community might be interested in the share.
6. Nubies versus Oldtimers and How to Keep the Conversations Going
Why do people join a community? Sometimes they have to — it's part of their job or school requirement. Sometimes, individuals join a group to make themselves more impressive by association. On LinkedIn, it's both a way of showing your interests and of connecting to individuals who share group membership. Reasons for joining might not translate directly to level of participation. Some belong to a group for years before making their first post. Participation is hard, something has to spark a strong enough interest to overcome lethargy.
An established community with low turn over (individuals who join and stay) has a set of norms, a culture of its own. If you are taking over a community leadership, you have to understand "how things are done" even if you want to change how they are done. Change is not something people are good at. Disruptions are painful. It's best to adopt an evolutionary approach to change — slow movement towards the desired goal. If particular individuals give you trouble, work to empower them so they become part of the change movement.
Nubie — new members — tend to have a lot of enthusiasm at the onset, but might disrupt "the way things are." You want to find a way of using that energy and extra capacity to advance your goals for the group. Encourage participation with questions and comments. Don't leave people hanging after they left a comment, even if the comment is a bit off. Show (don't simply tell it's wrong) how you want them to think about the types of discussions you are looking for. If the subject has been discussed at length and they Nubie is bringing it up again, point out where the thread is. Explain that they were right for thinking that this subject was of interest to the group.
One of the responsibilities of running a community is to support dialog. That means proving things to talk about (posting interesting articles, for example); "liking" others' comments; jumping in to answer a question when the group is asked but no one else volunteered an answer; keeping the discussion on track and relieving tensions as they arise; modeling good citizen behavior for other members of the group.
Never direct a community on one technical platform (like LinkedIn) to look at something on another (like Facebook). While some individuals might belong to both groups, not all will. If there's a conversation keep all parts to one platform. You can still provide links to photos, or articles, or other content, but members should only have to login once! Don't spread conversations among several Internet locations. It's too hard to manage for you and for your group members.
7. Groups Change
Everything changes, and so do the reasons for people to come together and form a group. Some communities evolve as the external goals change, some because of the internal group dynamics change. Communities that don't accept the changes, fall appart. One of the harest things to accept as the "owner" of the community is that the community have moved on — the members have appropriated the community and are using to advance goals that different from your own. If this happens, it is worth finding a way of embracing the members' goals and finding a way of using them to help your own. Making people talk about what you want to talk won't ever work. So might as well go with the flow.
The problem comes when the group that has "moved on" takes up resources that you don't have to spare. The you have a problem. Having a successful group (interested members participating in discussions) is a positive thing (usually). But it still takes time and effort to manage the group — people have to approved, spammers, blocked, disputes resolved, etc. Delegate! If the community doesn't support what you need, move on as well. But do so without harming the brand (yours or your company's).
It's hard recognizing when things changed — we are all prone to mirroring errors — seeing ourselves and our own motivations in the actions of others.
8. Marketing the Community
Communities need members in order to grow. "We build it and they will come" philosophy is not productive. If you are running a community, part of that job is marketing the community to the right set of individuals. Sometimes that's easy — "all students are required to join our alumni group!" But most times, just giving an order to "join us" is not enough. Even is you are developing a community to market your products or services, you have to market your community. It is helpful to think of the community as a product — same product design rules apply!
I will write another post on how to market a community next, including some guidelines for creating Brand Reps and using multiple news sources to drive traffic to your community.