Fashion Design shows have started up again: Fall 2014. I confess to a guilty pleasure of paging through photo after photo of the latest styles. There is something like a cross between artistic exuberance and freak show, all rolled into one insane media blitz. How can one not look?
But there's more to my looking than pure perverse curiosity. It's true, I don't really care what men will be instructed to wear and to like in the next season (or women, for that matter). But I do look for trends and patterns. And I also find something akin to Interface Design sensibility in the fashion industry — which way are we heading? What will be the next thing? What are these designers trying to say with their work?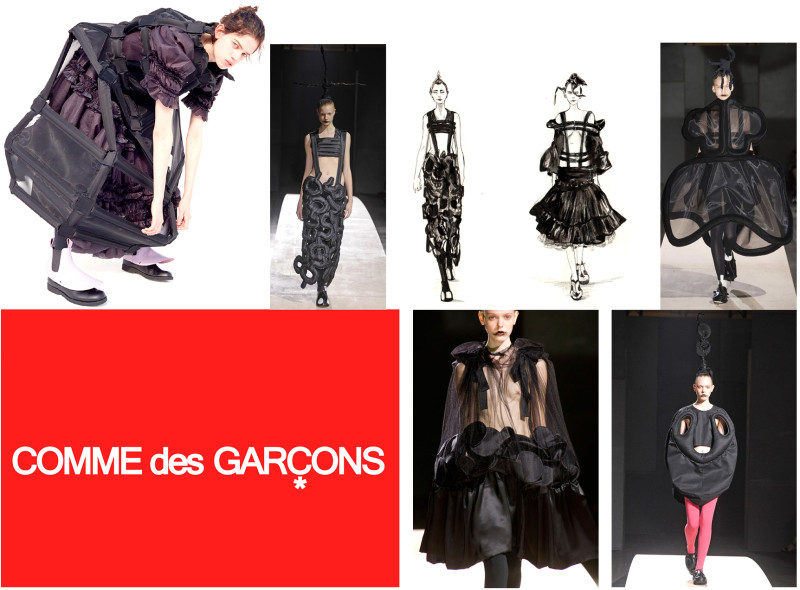 Product Design and Fashion
Conceptual Design: What is it? What does this piece of clothing design to do? Keep the person warm? Cool? Modest? Allow them to get a job? Which job? Convey their personality? Cover up scars? Reveal tattoos? Make a political statement? Be cheap? Show off wealth? Last a long time? Be practical? Protect from the elements? Arm against hostiles? Depending on the purpose, clothing can take very different forms. One of the reason we have Fall, Spring, and Summer Collections is to focus on the specific needs of the seasons. (The other is advertising — more opportunities to sell!) Obviously, not all locations have this need, but some do (think Hawaii, for instance).
Interaction Design: How is it going to work? This is where ergonomics comes into play — people wear clothing for a functional reason (mostly). A person needs to be able to move, to sit, to go to the bathroom, to take garments on and off without a lot of assistance (we no longer have valets to help us dress). If the material is too thick or too scratchy, they become uncomfortable to wear. If there's no give or stretch, movement is difficult. One of the great leaps of innovation in clothing design has been the invention of new materials and new ways of closures (buttons, zippers, Velcro, hooks, snaps, ties, buckles, laces, and stretch belts). Put together, there's an enormous set of possibilities! Thus Conceptual and Interaction Designs for fashion is so amazingly diverse and interesting.
Interface Design: How does it look and feel? Again, there's an enormous amount of creative energy unleashed on the look. The science of new materials gave the fashion industry a lot of new ideas to play with. Designers can print one-off textiles to match their creations — each fold can carry an image that continues on the next fold of fabric. And fabric itself can be made to change colors, include moving images, become self-luminecent, and event change its transparency. And all of this is rather cheap now. A wild idea can be carried from paper to reality in just hours.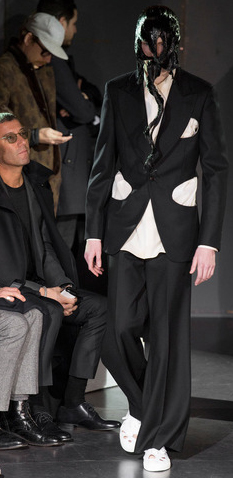 Consider Comme Des Garcons — the fashion designer featured in the image above on on the right. To me, it seems like he sidestepped the Conceptual and Interaction Designs and lunged head-on into Interface Design. His creations are not practical. They don't protect or cover up. They can't be worn outside of the show. And they would require assistance to just put on. But they do convey a certain look and feel. Whimsey. Unreality. Fun. And they are very recognizable as a representations of a particular brand — you might have never seen a particluar piece, but you can recognize the designer. So could Garcons' Conceptual Design be simply the need to stand out? If so, he is not alone. Many computer designers focus on just the same goal.
But would you buy AND wear this suit? And if you do, what would it say about you to those observing you? What message are you communicating? What is your goal?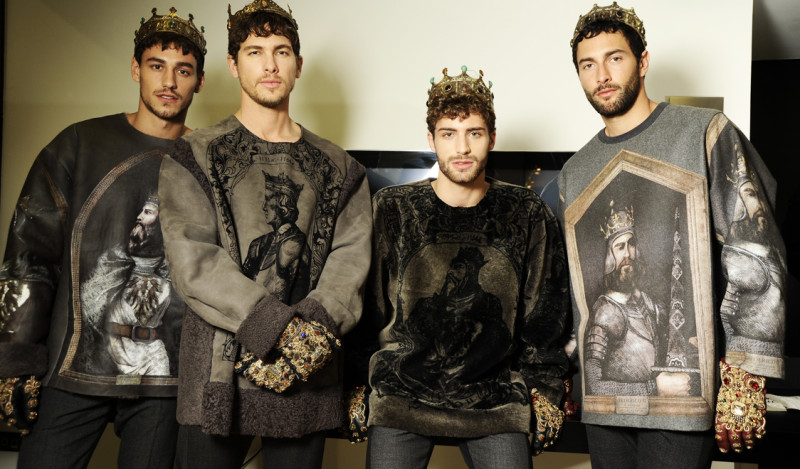 How about these Dolce and Gabbana options for men's wear? Are you a fan of the Games of Thrones? I am. But outside of the Games of Thrones party, I would be hesitant to do business with a guy dressed like that: "A crown, Dude? Seriously?"
And how would you feel about hiring one of these?

To me, fashion can be a cautionary tale of why product designers need to consider their users' goals before their own… But it is fun to watch!