So I've learned a new word: Speed Geeking. It's like speed dating but for geeks to quickly present their ideas to a small group. You have five minutes strict, and then move on to the next presenting geek. It was a very interesting format, but it clearly had accessibility issue: I walk with a cane and I found it very hard. It would have been impossible in a wheelchair. And others with disabilities clearly had issues with this format. But that said, I've learned a lot. Below are my notes on the Speed Geeking event at US Rio +2.0.
Noel Dickover — Senior New Media Advisor, Office of eDiplomacy, U.S. Department of State — introduced Speed Geeking and ran the event with an iron fist!
FrontlineSMS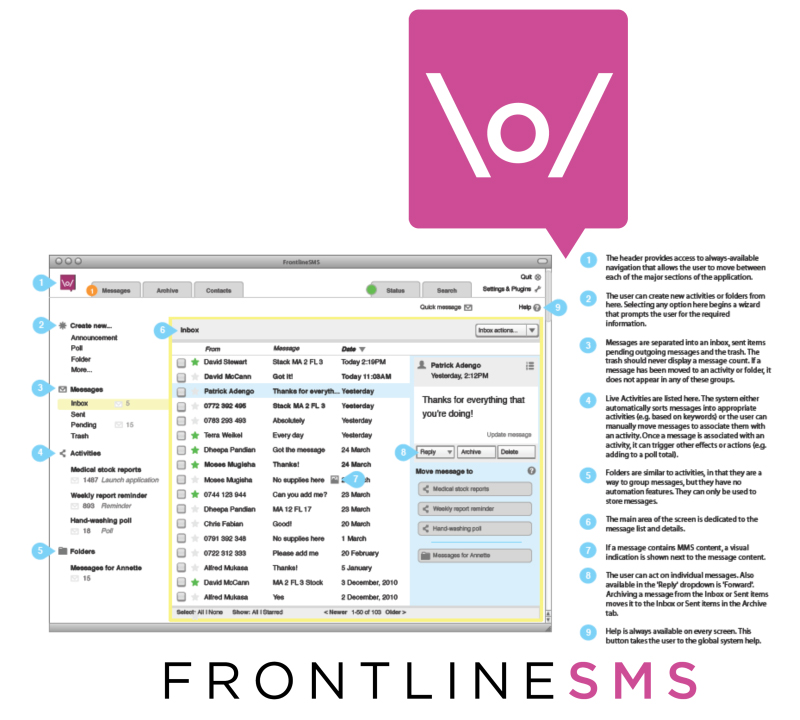 Demoed by Sean Martin McDonald, Director of Operations
http://www.frontlinesms.com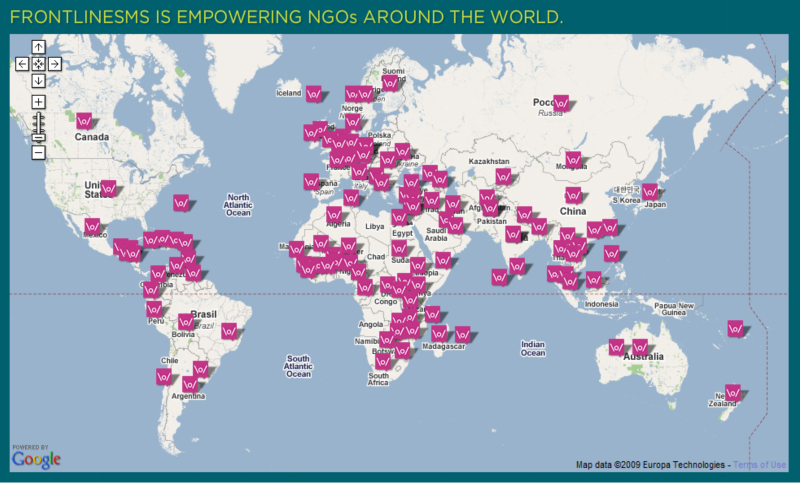 Main Point: SMS is cheap data that is easy to structure and moves over cell networks (without Internet)
Yahoo
Demoed by Gil Yehuda, Director of Open Source Product Management at Yahoo!
Gil talk about the use of Flickr for journalism, human rights, and keeping people safe. He raised the issue of copyright.
KIVA


Demoed by Beth Kuenstler, VP of Marketing & Communications
If you haven't heard of KIVA yet, it's time. They are in the forefront of micro lending industry — linking regular people around the world: lenders to entrepreneurs. Check them out:
http://www.kiva.org
MapBox
Demoed by Eric Gundersen
This is a for-profit company in Washington DC. It's the first custom maps generator — on the fly composites of real-time citizen generated updates.



http://www.mapbox.com
Nexleaf Analytics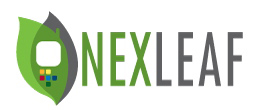 Demoed by Nithya Ramanathan
This is low cost sensing technologies: $30 per wood/coal/liquid fuel burning stove. The idea is to monitor in-door pollution. But it seems like the price is a bit high for the population they are going after…
http://nexleaf.org/
MedicMobile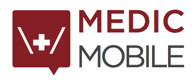 Demoed by Josh Nesbit
This is a non-profit venture, located right here in San Francisco. The day after the presentation, SFGate.com came out with an article about them:
Tech firms offer solutions in developing countries
Main idea is to use mobile phones in rural villages to deliver healthcare — give access to medical care. They are using SMS — programing the sim cards for medical use. The most interesting thing about them is that they are using parallel sim cards: two cards in one slot! Not parallel, dual sim card cell phones, but sim cards one on top of the other. This is pretty cool!
http://medicmobile.org/
esri


Demoed by Carmelle J. Terborgh, Team Lead for the Federal/Global Affairs
and by Bronwyn Agrios
esri is about geo information systems — simple map-making and data sharing technologies. They are for-profit. The application works on the iPad. There was an educational presentation on the coral reefs. Carmelle showed how by layering information on the map, they were able to expose logging data with overlapping protected gorilla habitats. This allows the local government to act. Simple data manipulation visually exposes relationships hidden in tables and reports.
http://www.esri.com
iisd: International Institute for Sustainable Development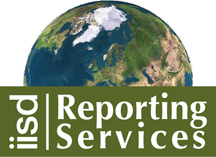 Demoed by Langston James "Kimo" Goree VI, Director of Information Services
This is a sustainable development group out of Canada: "provides a variety of multimedia informational resources for environment and sustainable development policymakers, including daily coverage of international negotiations, analyses and photos."
http://www.iisd.ca
SoukTel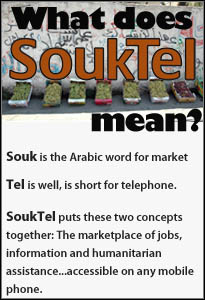 Demoed by Jacob Korenblum, President
This is a for-profit group. Their mission is to link unemployed youth with jobs. They use mobile phones SMS. They developed a service for job seekers to post qualifications. The employees search the database to find perspective hires. When I asked about privacy and security, Jacob said that they keep the names of anonymous and hide contact information.
http://www.souktel.com
NetHope


Demoed by Tina Lee, Associate Director of Strategic Relationships
NetHope is a hub for NGOs. It's used to identify problems using technology. They provide the means to share capacities, share services, communicate needs. They are enablers — they can deploy, but usually pass on the information and infrastructure to the group on the ground.
http://nethope.org/
SamaSource


Demoed by Martin Anderson, VP of Engineering
They create batches of "jobs" that they pass on to workers in Kenya, who are having trouble finding a job. They are digital yentas — uniting work with workers. The people get money and reputation. They also provide training and education. They are non-profit.
http://SamaSource.org/
Ushahidi


Demoed by Heather Leson.
Ushahidi is a non-profit from Kenya. They provide technology — an open source platform — for fast, geo-temporal tagging. If you don't know about them yet, go check them out.
http://www.ushahidi.com
Solar Sister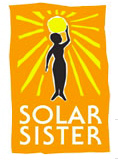 Demoed by Kathrine Lucey, Founder and Chief Executive Officer
Solar Sister is a business opportunity for rural villages without regular electrical power. They sell solar-powered lamps to local women, who then turn around and sell them inside their communities. One of the interesting comments made at USRio+2.0 was the power of light to reduce population: light at night allows women (and men) to do other things like cooking, sewing, reading. Sex is not the only game in town. Even in US, when there's a massive power outage, all the hospitals prepare for the baby boom 9 months later. Imagine if it was a continuous power outage? Definitely a worthy cause! And it supports economic development in the community, by not only providing merchandise to sell but by allowing women to work after sunset (6 p.m. in equatorial regions year-round).
http://solarsister.org/
Development Gateway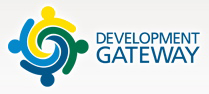 Riccardo de Marchi Trevisan, Product Manager
"Development Gateway is a non-profit organization that delivers information solutions to the people on the front lines of international development work."
http://www.developmentgateway.org
Open Mind — QuestionBox


Rose Sarita Shuman, Founder
Low-tech solution to providing information in areas of high illiteracy.



http://www.QuestionBox.org
gef: Global Environmental Facility


Gustavo A.B. da Fonseca, Head of Natural Resources
"The Global Environment Facility (GEF) unites 182 member governments — in partnership with international institutions, civil society organizations (CSOs), and the private sector — to address global environmental issues.
An independent financial organization, the GEF provides grants to developing countries and countries with economies in transition for projects related to biodiversity, climate change, international waters, land degradation, the ozone layer, and persistent organic pollutants. These projects benefit the global environment, linking local, national, and global environmental challenges and promoting sustainable livelihoods."
http://www.TheGEF.org
Mountain Hazelnut Venture Limited
Presented by Daniel K. Spitzer, Chairman & CEO
and
Teresa G. Law, Chief Financial Officer (and founder)
The idea here is to grow hazelnut trees in Bhutan for economic development. They are using cell phones to track each tree's progress with photos and data. This translates into a lot of data collection on the ground. There's an opportunity for partnership with an organization that is interested in data from Bhutan: medical? civil? other?
http://www.mountainhazelnutventure.com/HOME.html
World Resources Institute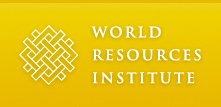 Nigel Sizer, Director of Global Forest Initiative and Deputy Director of People and Ecosystems
"The World Resources Institute is a global environmental think tank that goes beyond research to put ideas into action. WRI spurs progress by providing practical strategies for change and effective tools to implement them."
http://www.wri.org
There were other groups presenting, but these were the only ones I got to meet personally during the Speed Geeking session at US Rio+2.0. To read my other notes on this event please click here.
On the closing note, Michael Jones, Chief Technology Advocate for Google, delivered a great Closing Keynote address. You can watch all of the presentations at the US Rio +2.0 site. I leave you with the last slide: