The world has accepted independent filmmakers. These auteurs — def: "auteur is a filmmaker whose personal influence and artistic control over a movie are so great that the filmmaker is regarded as the author of the movie" — are strongly preferred over the "boring" regular movie directors and producers. Auteurs are special. They create true films. They are the "real" storytellers of our modern age. Moviegoers (their audience) either strongly in favor of seeing movies made by independent filmmakers (they certainly allow for more interesting dinner conversations) or they love to hate them. Hate or adoration makes for more intense discussions with friends and family. So if there is such acceptance of indie movie-makers and indie films, why is there a strange sense of negative judgment when it comes to indie writers and indie-published books? I ran into this all the time. Bookstores are uninterested in carrying books by self-published authors, libraries bulk at stocking these books, and the general reaction is that if it is self-made it must be of poor quality. Funny how the label "self-made" can be both a negative AND a positive: "He is a self-made man." or "He wears self-made clothing." or "He makes his own indie wine." or "He lives in a house he built himself." Indie or self-made can be both an admirable quality and a warning, depending on the industry.
And it is worth a mention that "The Martian" grossed $338.4, million in the United States and Canada and $401.7 million in other countries! This movie is based on a self-published novel by Andy Weir. Sure since the movie, Andy got a publishing contract, but this is not how this story started. Still, such breakthrough successes are practically unique in the indie writing world.
Not long ago, I went to a local indie book store (one that still has many locations and that allegedly doesn't pay its employees well), and I was told that if my book was published via Amazon imprint, then they don't want me and my books in their store! And I was willing to come and talk to their readers/customers and provide a quality marketing opportunity not only for me but for the store. I read books voraciously and I just happen to hold a doctorate in education — I have interesting things to say about reading and books, not just my own. But there is a huge antagonism against indie writers in the indie book stores. It makes me not want to support them… And this comes from a person who loves to run her fingers over rows and rows of dusty books…the way others feel about running through fields of grass.
A few months back, I read an article about Barns&Noble's CEO cry for support. So while interesting, the article doesn't talk about writers at all or about how books are being pushed out by the giant behemoths publishers. Without the giant marketing budgets and personal connections to national and international sales channels, indies can't compete. Yet Amazon liberated indie authors from the fickleness of agents and publishers. Some of the best books I've read lately have been by indie writers. If the giant books stores offered opportunities for readers to discover and meet us, then James Daunt's cry for support would be more interesting (or at least I'd be more receptive to his arguments).
So this brings me back to what Amazon is trying to do right now — a Kindle Vella:

I was invited by Amazon to be one of the early contributors to the Kindle Vella universe of stories. I just published 2 short stories this way: Light Child and The Shifting Sands of Mars. The last one comes with three episodes, the first is just a short story and so is available for free on this new platform. And I might do another Kindle Vella soon — worth a try, right?
Here's a teaser text for The Shifting Sands of Mars:
During a routine maintenance inspection, an engineer, Hugh, finds a strange-looking rock on the surface of Mars. He always wanted to find an "artifact", could this be it? Following clues on the wind-swept surface, Hugh and his partner stumble on something extraordinary.
Here's a teaser text for Light Child:
Addam is 100% light child–his life light is one of the brightest ever recorded. On a playground, he meets a girl whose life-light is deeming to dangerous levels. He tries to help. The entire interaction is observed by educators who make life and death decisions over the children in their charge, culling those who are deemed defective. Will Addam survive the encounter?
I have no idea what this would mean to indie authors — will Amazon invest the marketing dollars to make these stories a success (which might mean a bit of publicity for those of us that contribute content to this new platform)? I don't expect to make any money on this, but I like finding new readers, I'm willing to try it out. So please be supportive — read, like, post a review. Thank you!
I have been trying to make my short stories and novellas my mighty arm of marketing! …yeah, not. But one of my stories did earn another award this month, which was very nice. And I have two (not one) novels in competitions this year. One, Mirror Shards, is part of SPFBO 7 — the Self-Published Fantasy Blog-Off 2021!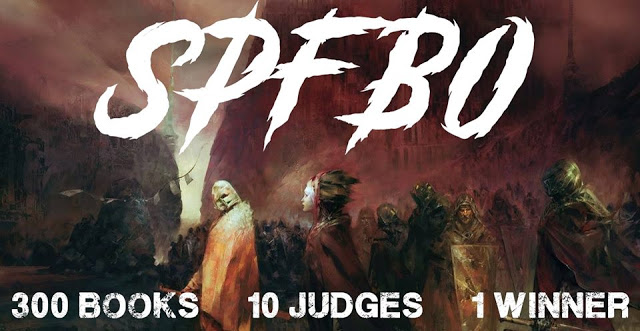 Last year, Twin Time was a semi-finalist in SPFBO 6!
I'm also participating in the inaugural equivalent competition but for science fiction hosted by Hugh Howey — SPSFC 1 or Self-Published Science Fiction Competition. Harvest is my entry and I look forward to finding out how it will be received by the judges. Here's the teaser text:
Almost a century after Keres Triplets asteroid impact and subsequent nuclear exchange almost ended all human life on Earth, a strange artifact is discovered on one of the moons of Saturn. Who should be sent to the outer reaches of the solar system to initiate the first contact with an alien culture? Dr. Varsaad Volhard, an evolutionary-socio-historian, is chosen to help the world understand the alien civilization that left an artifact some thirty thousand years ago, before humans even learned to farm, at the time when other human species still walked the earth. While Vars prepares for the mission, her father, Dr. Matteo Volhard, discovers nanobots among the microplastics he studies. The bots are everywhere and seem to have been created to bond with human cyber implants. Why? Matteo is made to keep his discovery a secret…as well as his and his daughter's true origins. Both were donated to a Human DNA Vault as babies. Matteo was raised as a Seed before leaving with his young daughter to study ecology around the world. Who knows what? Who is in control? How does one communicate with non-human intelligence? People seem to die in gruesome ways as their cyberhumatics go haywire on Earth and on Luna and Mars colonies. Is Earth under attack or is it all just a cosmic misunderstanding? Vars needs to use all she knows to solve the mystery of the ancient civilization on Mimas, as her dad battles the alien nanobots at home.
So this is all the news that was fit to print this time around. Oh, and it's my thirtieth anniversary this week! It feels like just a few years went by as we raised our kids and worked hard and lived our pretty quiet lives. And, in the meantime, I have over a dozen novels under my belt…and so many more stories yet to tell.