I read a few books this last year, and like a good reader, I would like to recommend and review some of those stories. So here goes…
"The Wheel of Time"
(4 stars)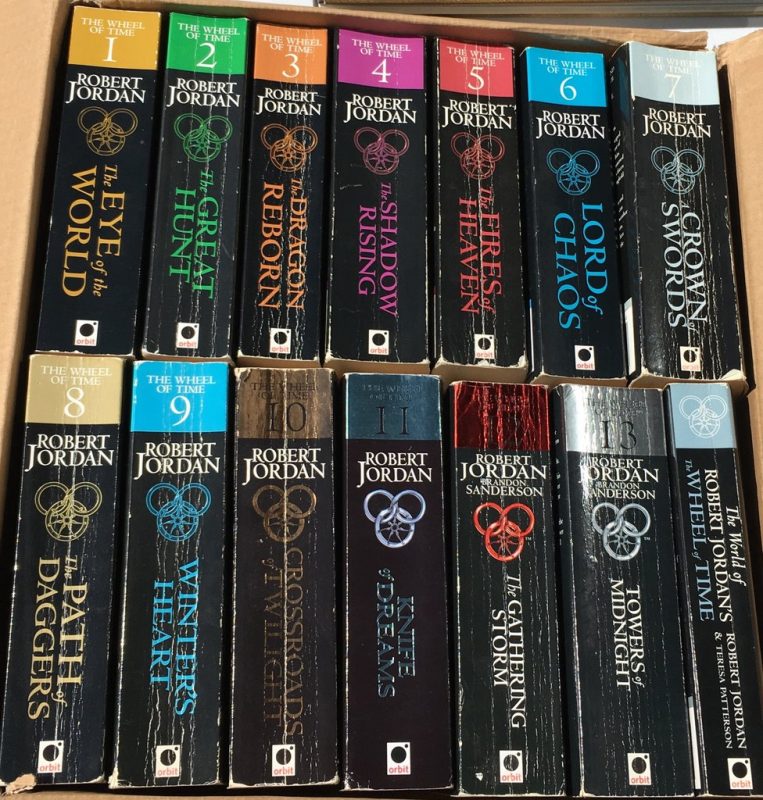 The Complete Wheel of Time Series Set (1-14)
This a big commitment…
I want to start this review by being very explicit — don't start unless you have the time to finish in one go (over many months). There is so much detail and so many characters (all sounding similar) that it would be difficult to get through without an online guide…or if you just give up caring.
I posted the images of the books, spines out — I want you to fully understand the commitment you are making. It took me about a year to finish all 14 books. I haven't decided if I want to spend additional time reading the prequels; certainly not any time soon. Below are my short notes on each book (not summaries of the plot) and the number of pages per book:
#1 The Eye of the World (written by Robert Jordan) — 753 pages
Very interesting world, very well defined, with many nuances. I liked the characters. It was a bit long-winded, but enjoyable.

#2 The Great Hunt (written by Robert Jordan) — 658 pages
After reading the first book, I felt committed to continuing. I was still enjoying the story. And for the first time, I noticed just how much "The Game of Thrones" and "Harry Potter" 'took' from this fantasy. The parallels were numerous and kept coming. I feel like "The Wheel of Time" is the true original. It is both deeper and wider than either of these other fantasy series.

#3 The Dragon Reborn (written by Robert Jordan) — 673 pages
Once committed to this story, I've read it one book after the other. For if I didn't, I wouldn't be able to keep up with all of the names and places. There is a LOT to remember! I wish there was a way to click on the name in the book and get a quick recap of who this was… I don't know how people read these books when they had to wait for the next installment for several years. Thank goodness I didn't start these until they were all done.

#4 The Shadow Rising (written by Robert Jordan) — 1051 pages
Okay, this is where I've invented the term Peril Loop — a continuous series of bad events that happen to the main character in a story — and Peril Loop Fatigue — how the reader feels when too many improbable bad events happen to the main character one after another in a continuous barrage of peril. Book 4 is where I almost stopped reading these series several times. Enough is enough!!!!

#5 The Fires of Heaven (written by Robert Jordan) — 926 pages
Still reading…

#6 Lord of Chaos (written by Robert Jordan) — 1049 pages
I've made it this far…

#7 A Crown of Swords (written by Robert Jordan) — 902 pages
I love how detailed the world developed in this fantasy is. Everything seems motivated by deep time events. You get a sense of how customs and people changed based on historical events. This is far better than "The Game of Thrones." Robert Jordan must have a library-worth of notes… Unfortunately, I don't.

#8 The Path of Daggers (written by Robert Jordan) — 669 pages
This one is a bit shorter. Is Mr. Jordan getting tired? As much as I love the millions of details, I'm getting exhausted… I heard about these series many years ago, way before I read "The Game of Thrones" (GoT). I figured as a writer, I should read "The Wheel of Time" as a great example of world development. I have a lot to learn… Yet, GoT HBO series was in some ways an improvement over the book — the stories were tightened up; many characters were combined; unnecessary details removed altogether. I will NOT be reading the last book of GoT if it ever comes out…

#9 Winter's Heart (still written by Robert Jordan) — 705 pages
Like in any story, you fall in love with some characters more than others. Mr. Jordan is careful to give equal time to all his main characters and to develop their storylines fully. But I feel like the main story is getting sidelined…

#10 Crossroads of Twilight (still written by Robert Jordan) — 832 pages
For all of the details, some main ideas are starting to get lost. Still reading…

#11 Knife of Dreams (still written by Robert Jordan) — 886 pages
So glad that I'm reading this as an e-book version — I don't have that much room in my house…or in my purse — I read everywhere; and if I had to carry these books, I would have serious back problems.

#12 The Gathering Storm (written by Robert Jordan AND Brandon Sanderson) — 861 pages
I began reading these series partly because Brandon Sanderson was one of the authors. He picked up writing the series towards the end. Brandon has an amazing imagination and I love his writing style. I think "The Wheel of Time" books are the better for having him as a co-author. Still, this story is getting long in the tooth.

#13 Towers of Midnight (written by Robert Jordan AND Brandon Sanderson) — 977 pages
When will this end?! I love long books…but this is too much! And things are getting muddled. The story is getting lost in the details… Who are these people?!!

#14 A Memory of Light (written by Robert Jordan AND Brandon Sanderson) — 1025 pages
Aside from Book 4, this was the worst of the bunch — too long; too many unnecessary plot points while the main plot points are left unresolved. I couldn't wait for this one to end. Some interesting bits, but overall a disappointment. Peril Loop Fatigue. Peril Loop Fatigue. Peril Loop Fatigue.

Overall review: the best-developed fantasy world I have ever read. But too long, too meandering, too lost. These series should have been shorter, tighter, more intense. The "side" stories were entertaining and might have been a nice addition as stand-alone novellas, but they should not have been included in the first read-through. People will probably hate me for writing this, but I'm also one of those who believe GoT would have benefited from some judicious editing. And did I mention Peril Loop Fatigue? How many readers gave up because they just got too tired of the main characters continuously battered by bad guys and fate? At some point, such twists of fate stop being engaging and become burdensome. Still, for the sheer scope of vision, I rate the whole series as 4 stars. Some books are better than others…
12592 pages, per Tor.
"The Dog Stars" by Peter Heller
(5 stars)
Finding a way to live with loss…
I seem to gravitate towards apocalyptic novels… But then "The Wheel of Time" series by Robert Jorden was also about the coming of the apocalypse…
"The Dog Star" is a first-person narrative from a point of view of a pilot about the years right after a flu epidemic that wiped away the life as we know it. The story is beautifully and painfully told. I strongly recommend it.

"Bird Box" by Josh Malerman
(3 stars)
Bad ending…
A horror story written in first person — a powerful way to spin a scary tale. But ultimately, the book doesn't work — too many plot holes and an unsatisfying ending. That said, I read it in a day — it fit a Sunday rainy afternoon.

"Mr. Penumbra's 24-Hour Bookstore" by Robin Sloan
(4 stars)
Enjoyable but not exceptional.
An interesting intrigue of a plot…

"A Darker Shade of Magic" by V. E. Schwab
(4 stars)
An interesting set of magical principles…
An entertaining read.
I wish that female authors didn't have to hide the fact of their gender under their initials.

"All the Birds in the Sky" by Charlie Jane Anders
(4 stars)
I was expecting a better story…
…that said, it wasn't bad. Just not as good as all the media hype.

"The Dreamblood Duology" by N. K. Jemisin
(4 stars)
Enjoyable, yet totally forgettable…
I picked up this book because I LOVED the other stories written by this author. But unlike the others, this one while fun in the moment didn't leave me with a lasting impact. Too bad…
I wish that female authors didn't have to hide the fact of their gender under their initials.

"The Alice Network" by Kate Quinn
(5 stars)
Need a box of tissues…
Every time I tell myself I will never read another book about the horrors of war, I find a story like "The Alice Network." Perhaps stories like these should be required reading — how else will we develop enough empathy to never allow our world to come to this again?