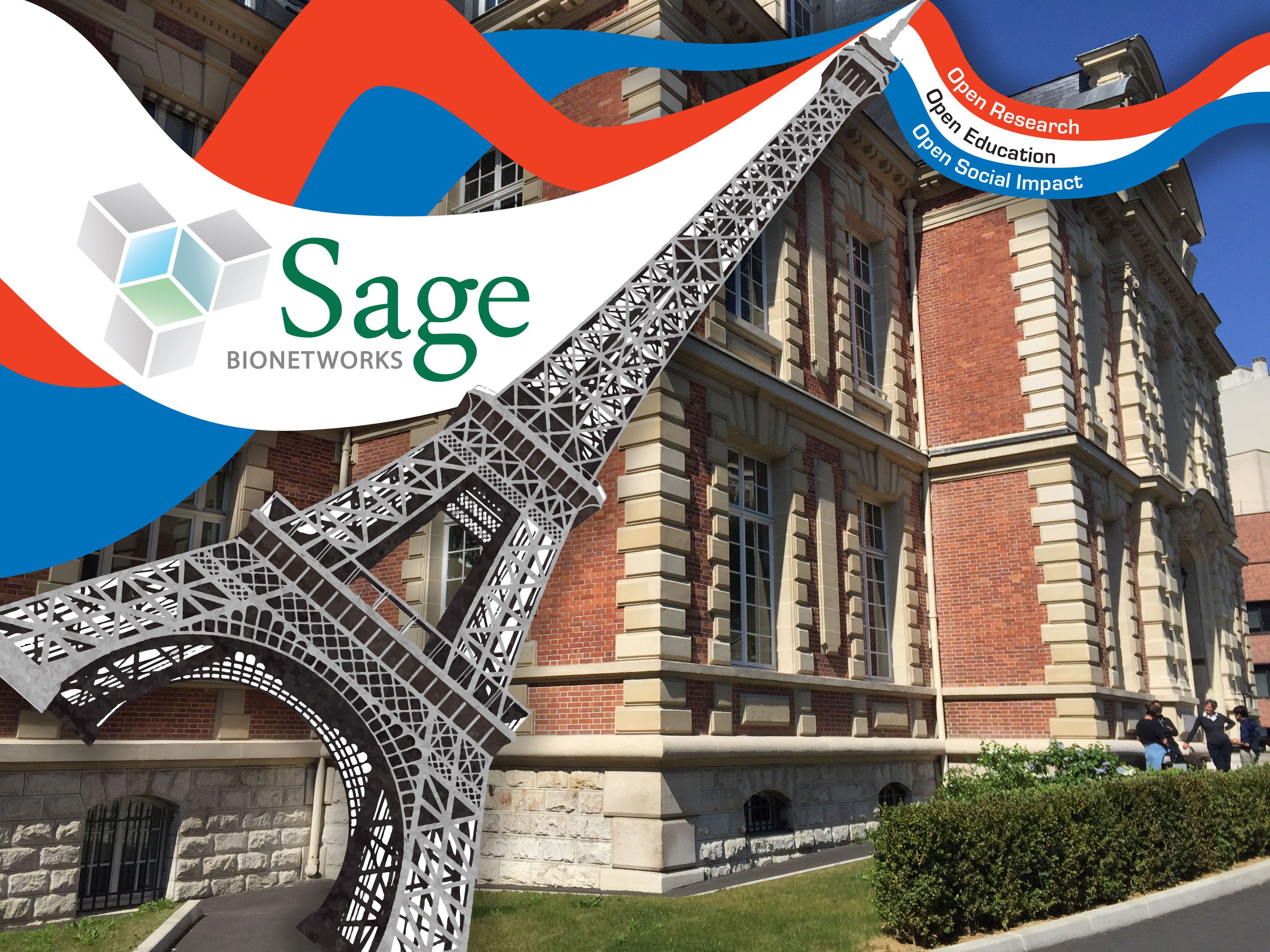 In 2015, the first Sage Assembly was held at the Institute Pasteur in Paris: http://sagebase.org/paris-assembly-2015-april/
Below are my slides from the last day's concluding remarks.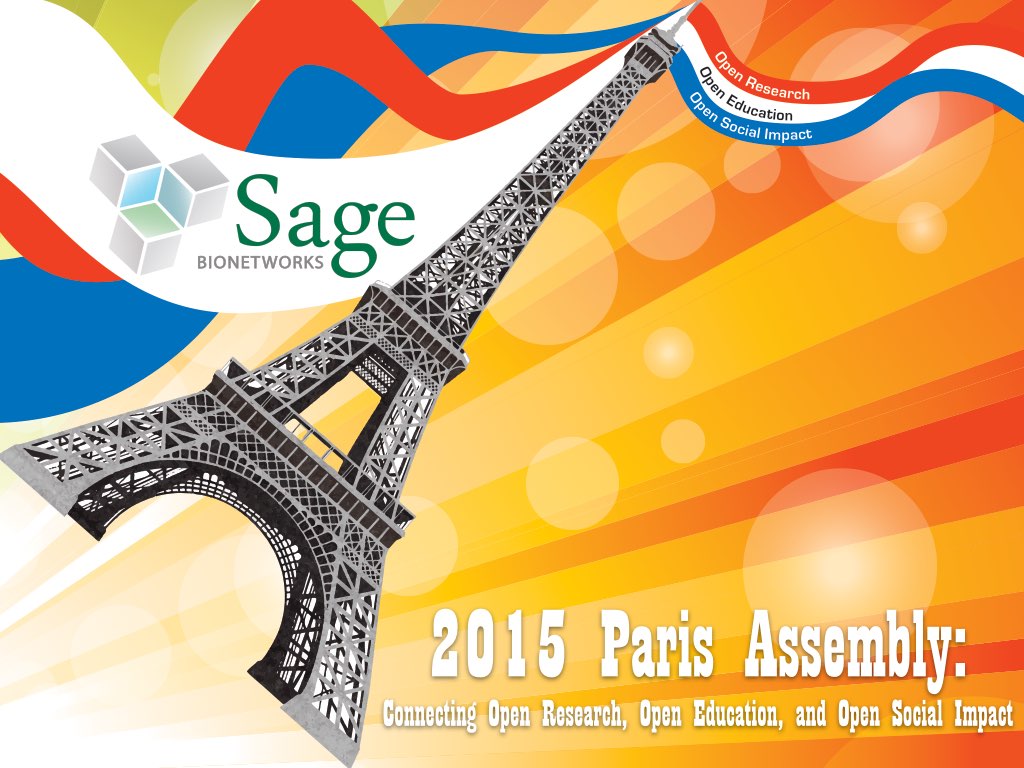 1. Let me start by saying what an amazing experience the last few days have been. Interesting ideas, great people, innovative solutions all came together here, in Paris. Thank you institute of Pasture for being such wonderful hosts.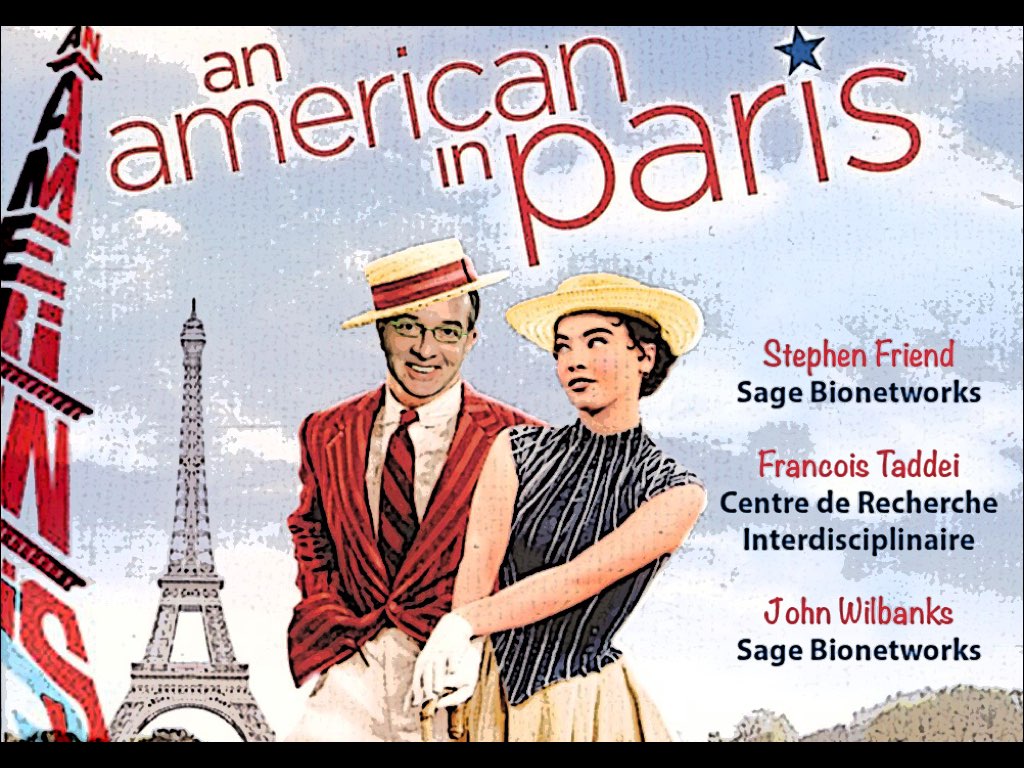 2. And of course none of this would have happened if not for one man, one American in Paris, Steven Friend. Thank you for working so hard to change the world, Steven!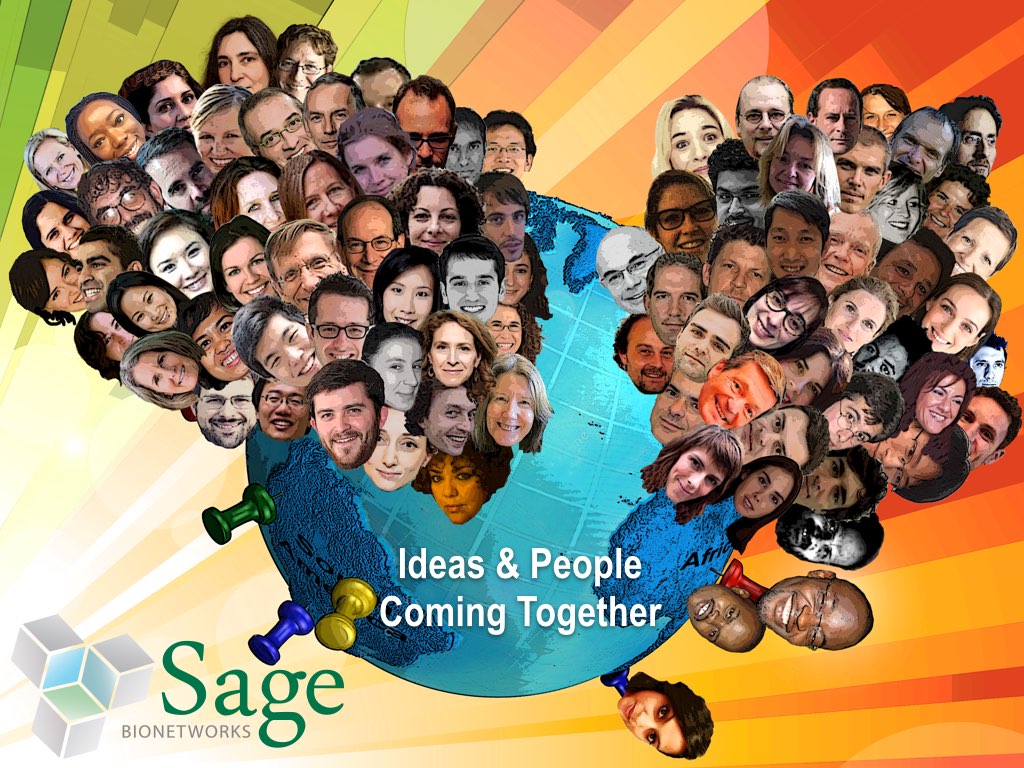 3. And all of us! Don't we group well? But there are still some obvious empty pins on this map. The World-wide Sage Community has room to grow!
So let me come straight to my topic — how do we create systems that help us change the world? How do we design and foster supports , scaffolds that make open data initiatives possible?
Well, I believe we have to start by understanding the people and communities in which they work. And we need to think about how change propagates…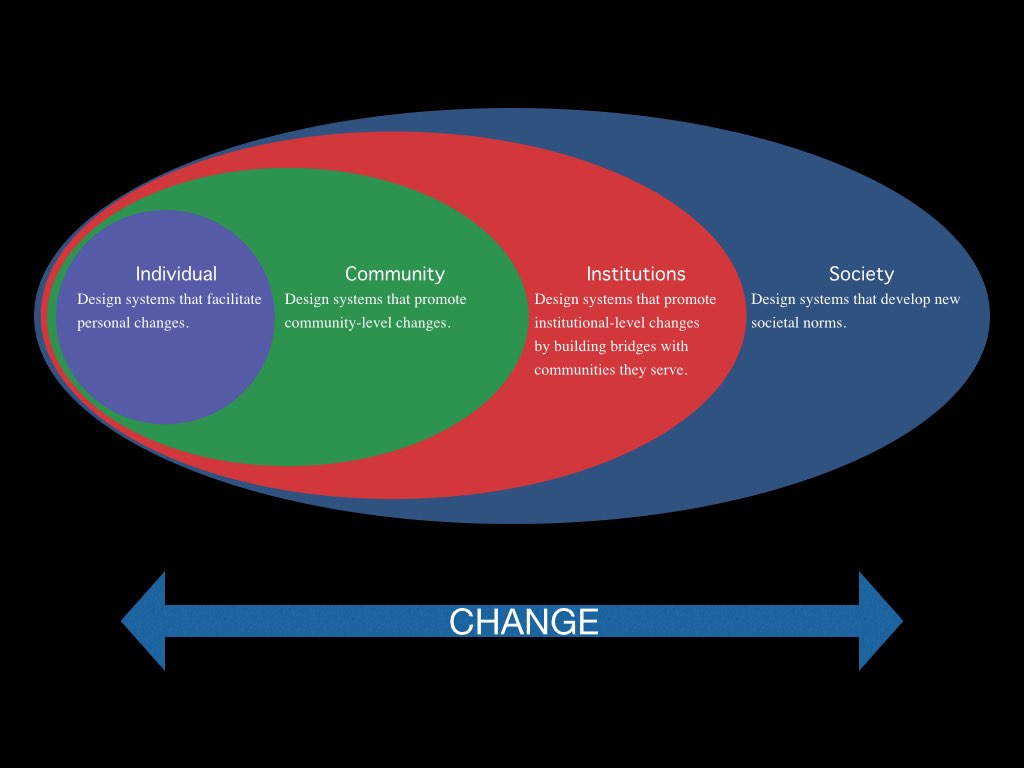 4. Change can be sparked by a single individual and then move all the way up to the societal level. Or it can cascade down from society as whole to make an impact on individuals. Or ignite at any level in between — small groups, communities, neighborhoods, offices, classrooms, city consuls, research labs, book clubs, universities, corporations, governmental agencies — all can nurture the seeds of change.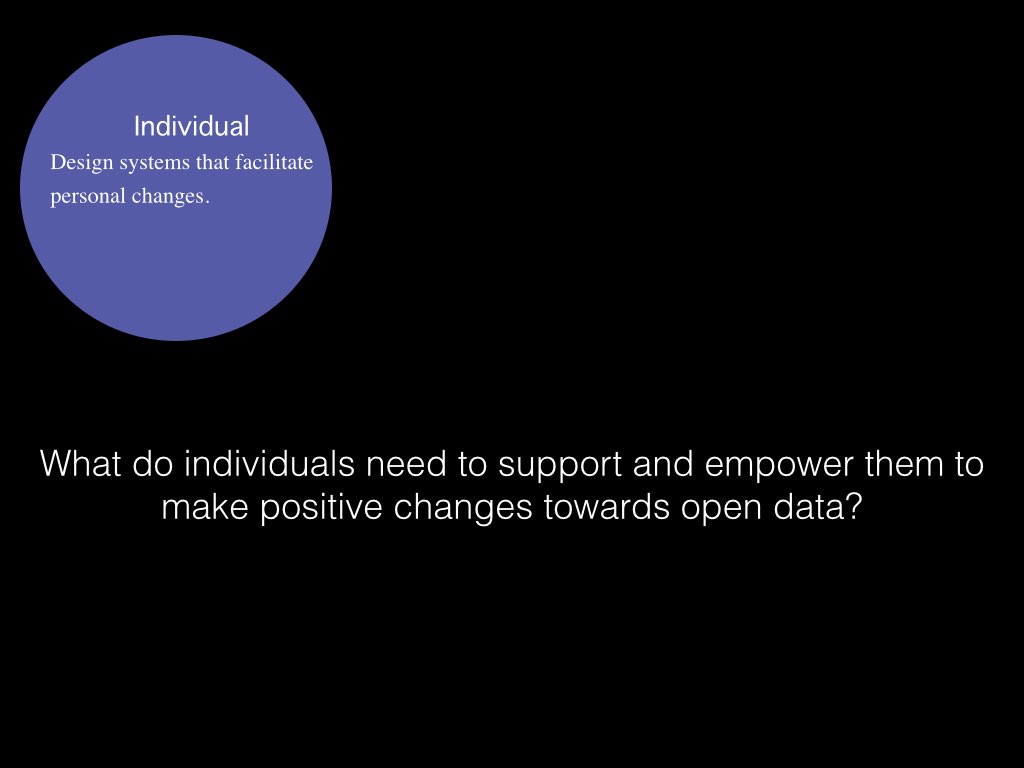 5. And to understand how we can help change the world, to move it towards accepting and embracing open data initiatives,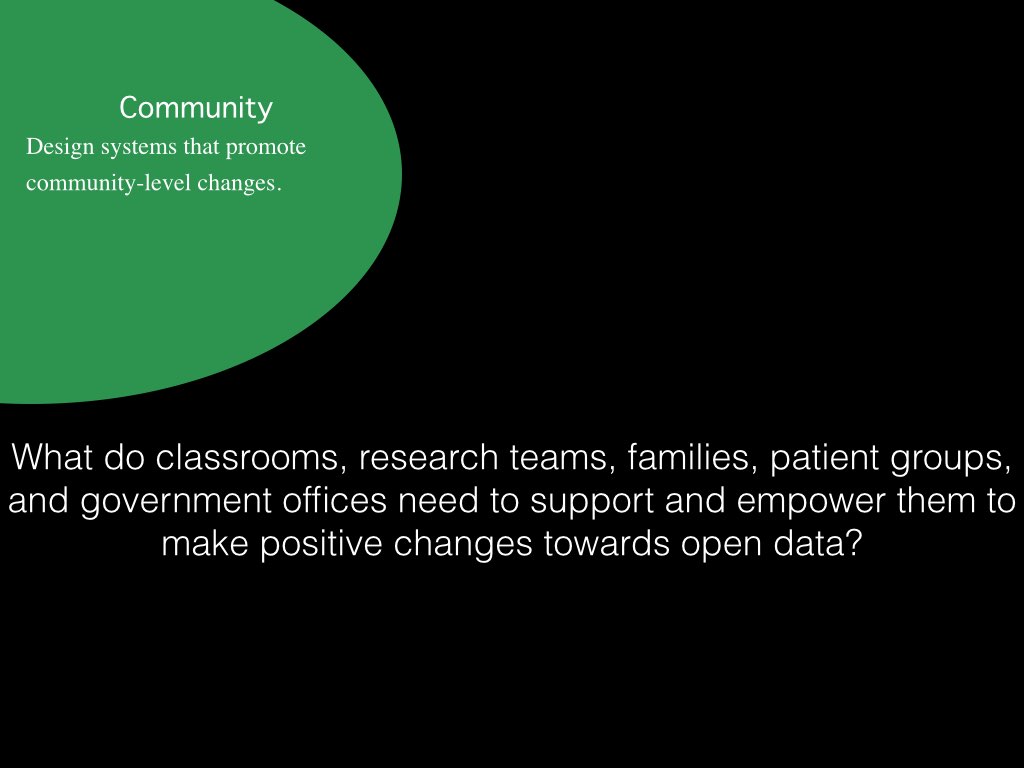 6. we need to think about people and organization and societies —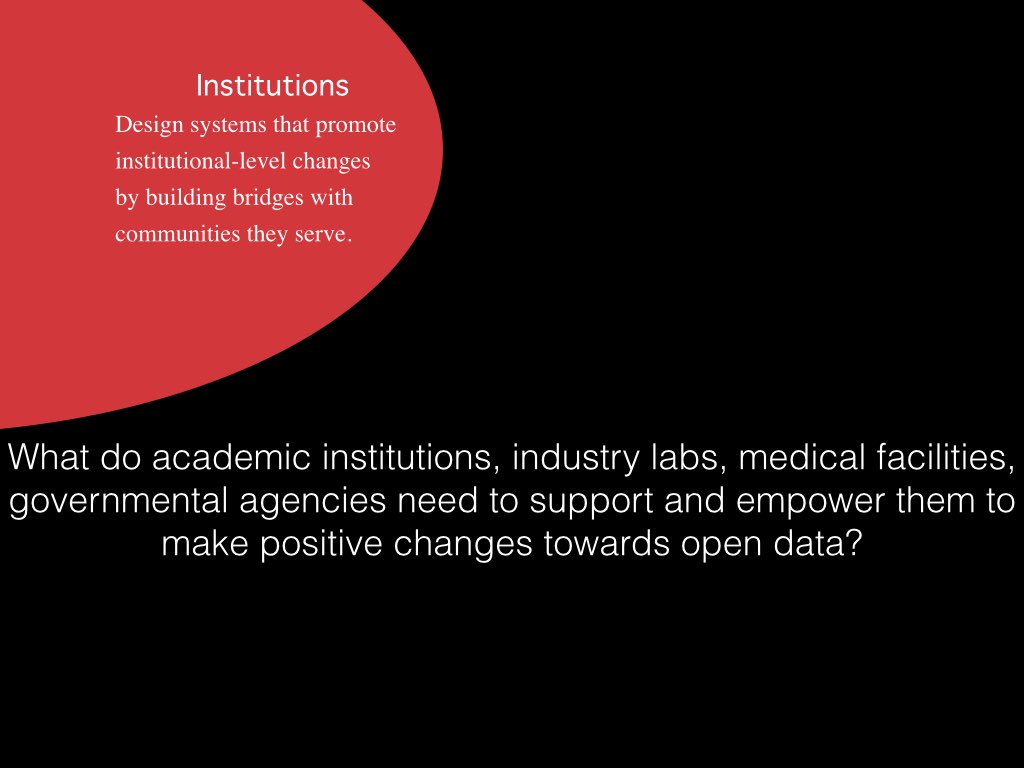 7. what are they good at? Where are the stumbling blocks?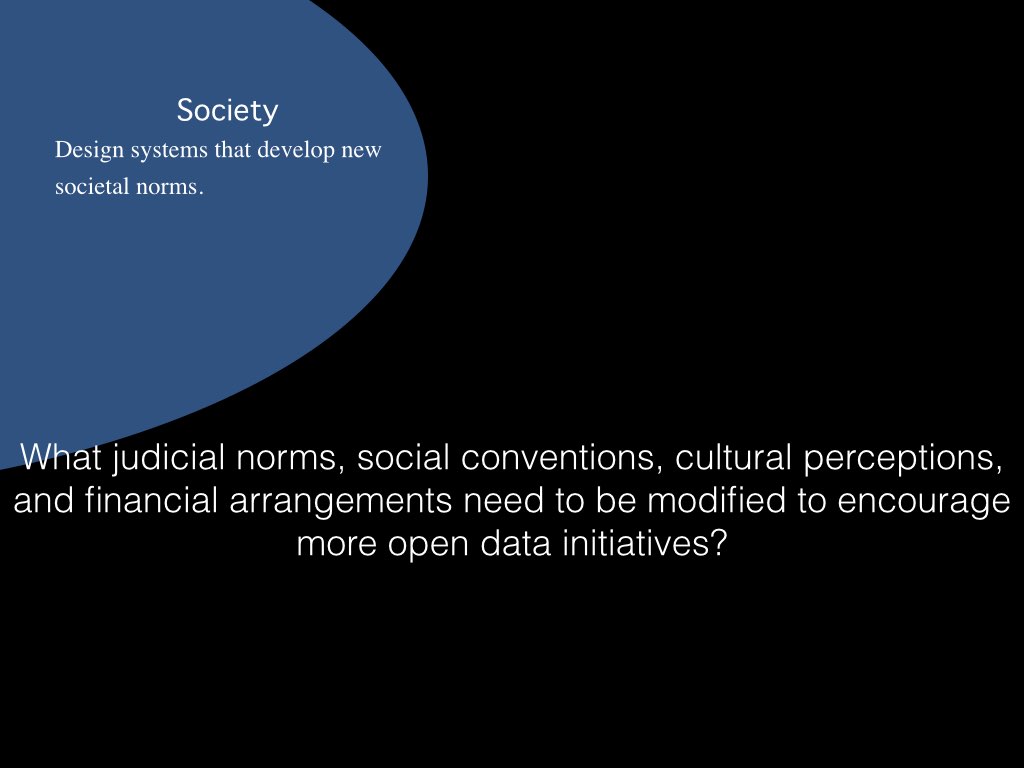 8. What can we do to make it easy to change?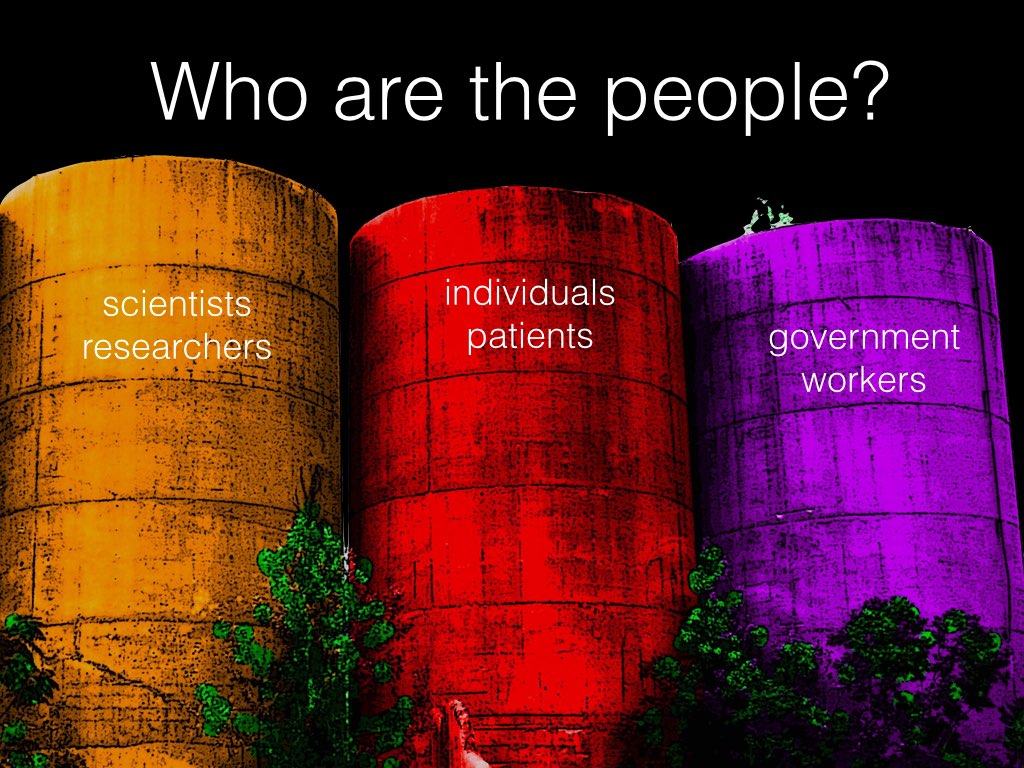 9. We need to look at each social level of organization and consider solutions that work.
Now there have been a lot of discussion about data silos — data locked up inside labs, institutions, controlled by individuals, supervised by regulations, hidden by ignorance or greed. Data that could be used to inform research and to develop new drugs and therapies. Data that could change lives. Save lives.
We can think about these three samples of data silos — data in the hands of researchers and scientists; data controlled by patients and their families; and data locked up under governmental regulations.
Let's start with patients and regular citizens.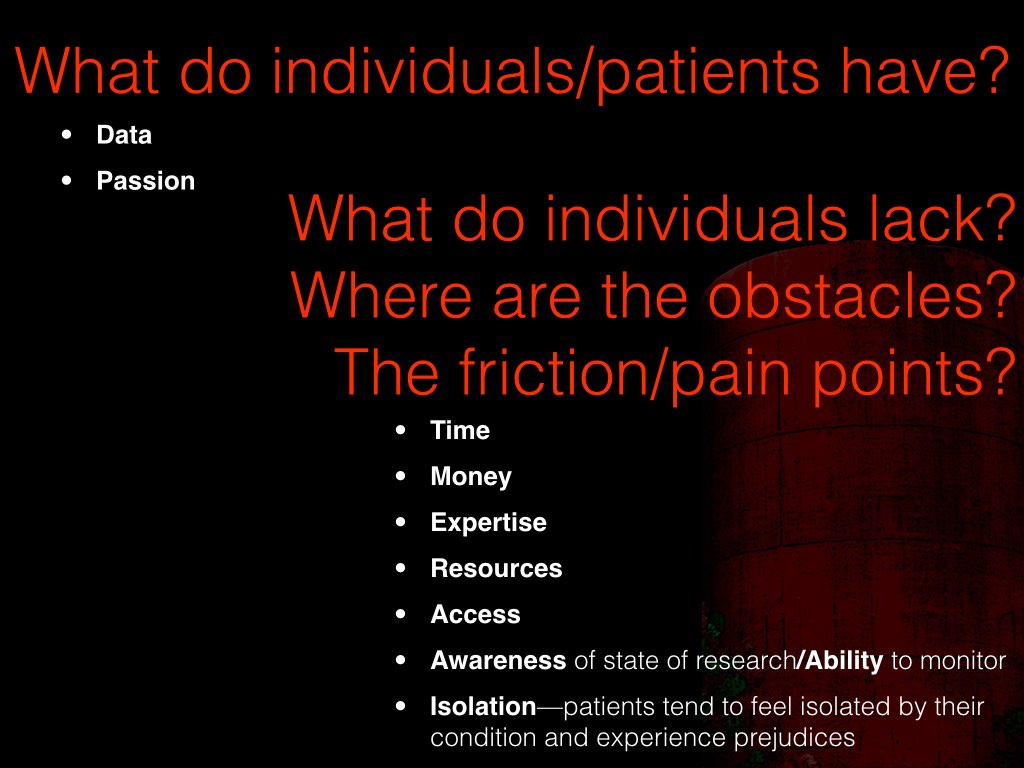 10. At the level of the individual, what do these people have? Well, we — and I mean we — we are all patients at some point in our lives and we are all citizens — we have data. We know what we feel, we know our environments and histories, we know more about the different medications, treatments, and doctors that we have seen. We have valuable data, not only in our memories, but in our DNA.
And we have passion — we care deeply. We want a cure. We want to save our loved ones. We all want to contribute.
So what stops us?
Time — as individuals, we have limited time. This is especially true if we are in the middle of a medical crisis.
Money and resources — as individuals, we have a limited amount.
We have limited expertise and we might not be in a position to acquire the knowledge necessary to do the research ourselves.
We don't have access — we don't know the state of research, and we have no ability as individuals to monitor what's going on.
We lack situational awareness.
And as patients, we are easily isolated by the conditions for which we seek help. We experience strong prejudices; we tend to hide information from our employees and our schools and even our friends and families.
This is what we need to solve in order to help individuals embrace the open data movement.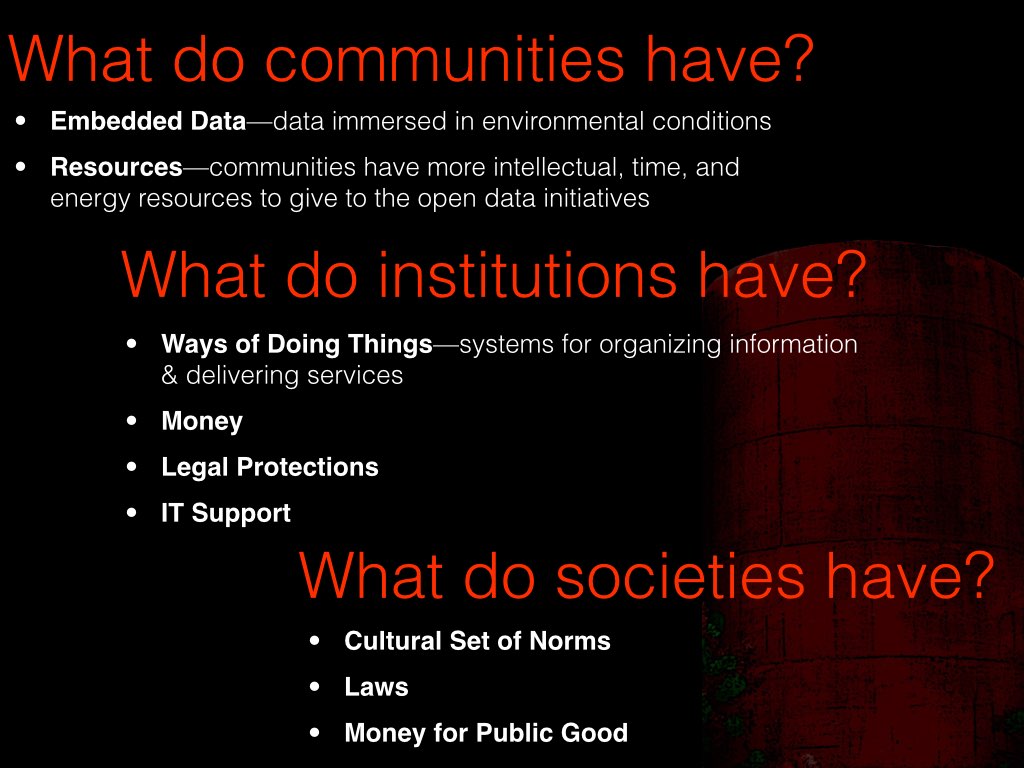 11. We can ask the same questions for the next levels: What do communities have? — the families and patient groups and neighbors — small groups of people coming together in crisis or for a purpose.
What about institutions? What do larger cohesive groups have? How about societies as a whole?
We want to find the positives and work with them — what are the cultural norms? What are the laws? Where is the money coming from?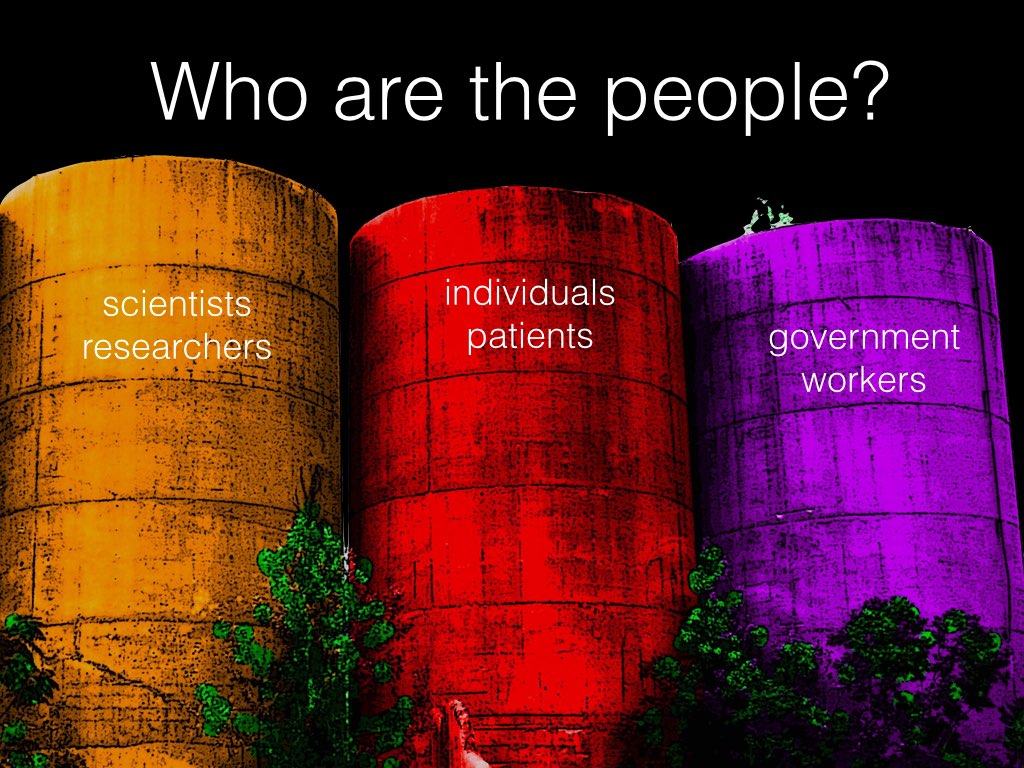 12. We can do this analysis for each of the other two silos explored here.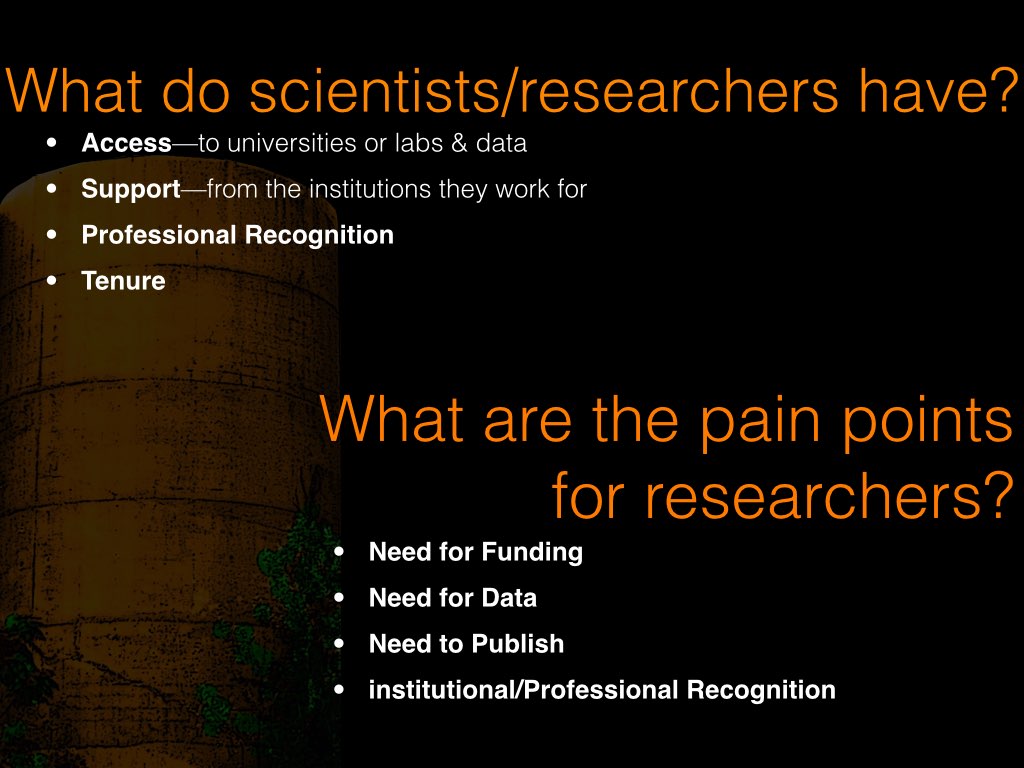 13. So what do individual researchers and scientists have? What do they need?
If we understand what makes people thrive, we can design to make it so. Scientists need funding, and data, and recognition. We can design for that to make open data a reality.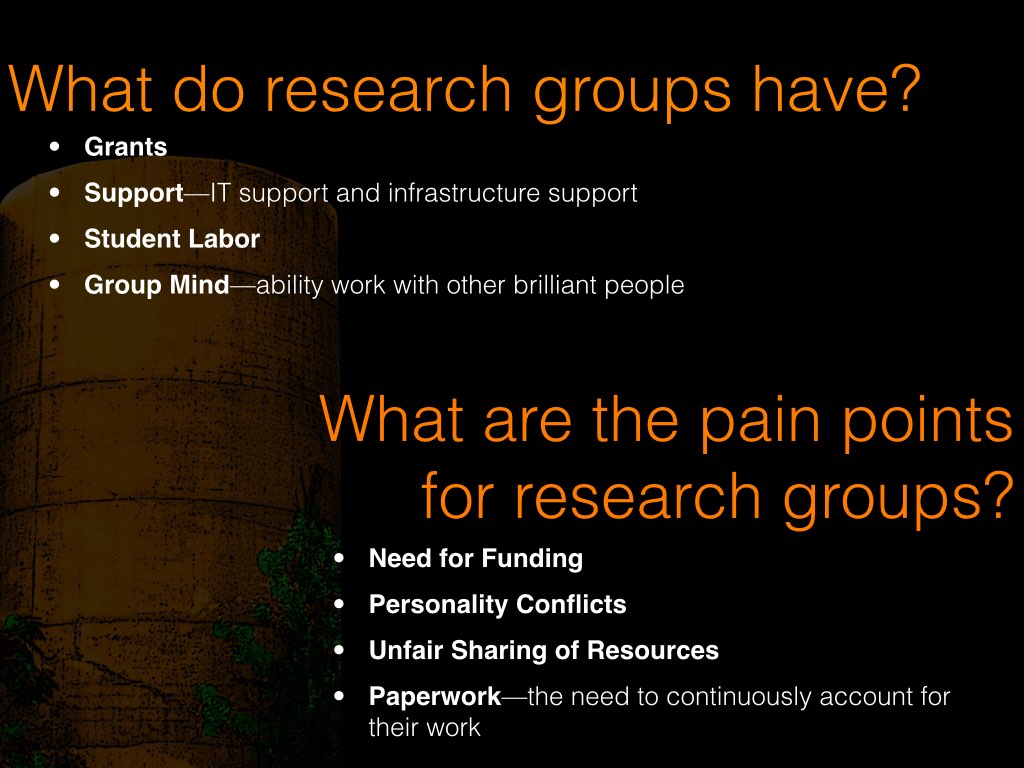 14. What do research groups and labs have? What do they need? How can we make it easy for them to embrace change?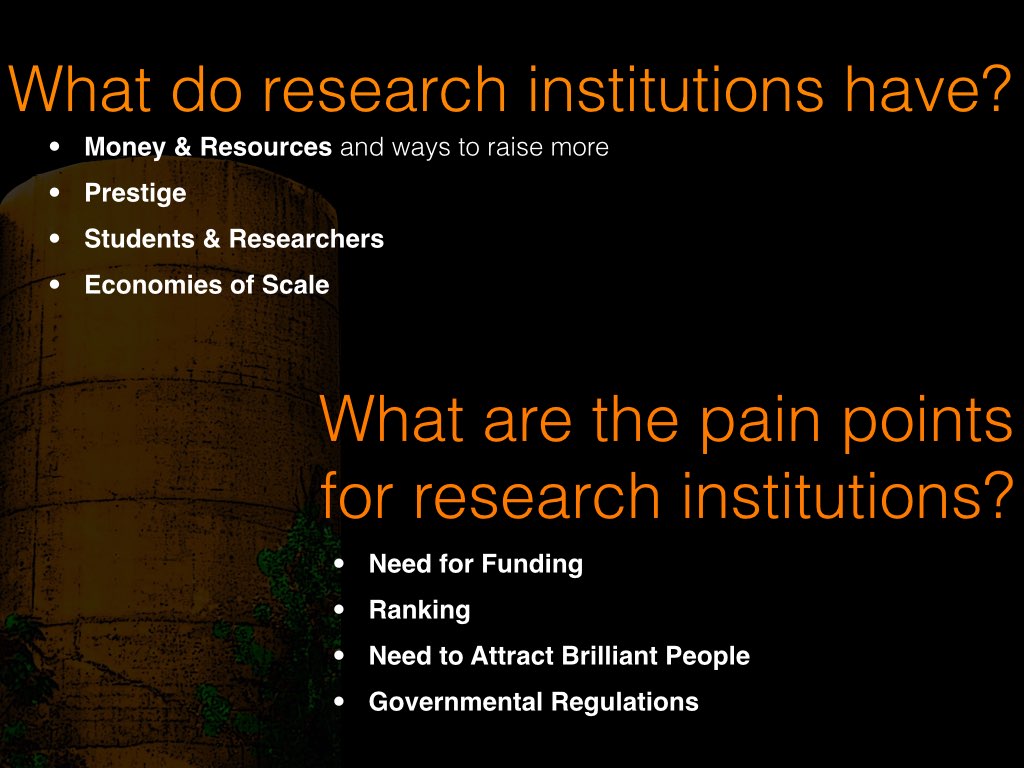 15. How about universities? What do they have? What do they need?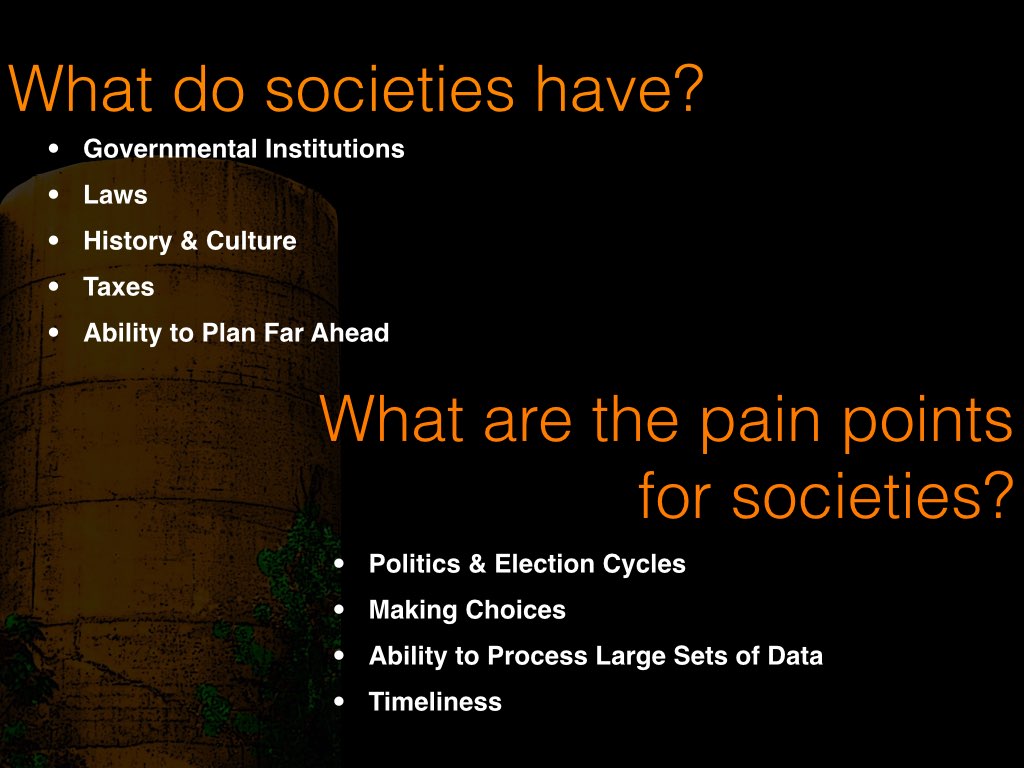 16. All the way up to the societal level, we can continue to ask these questions and look for the solutions that make open data initiatives the right choice.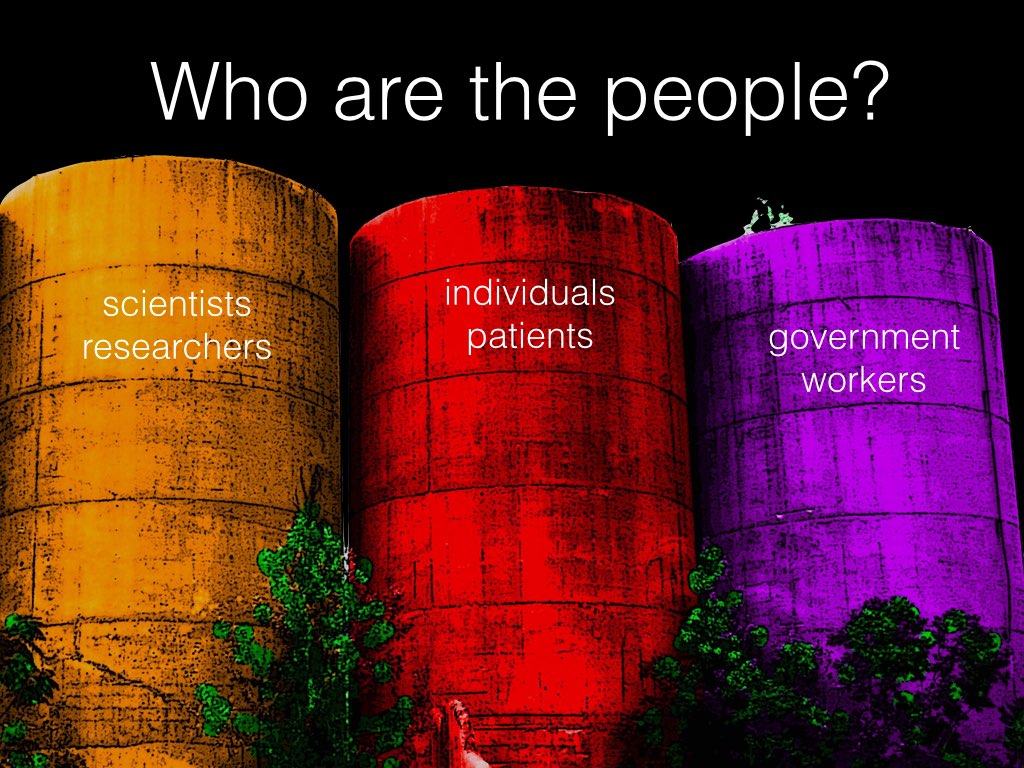 17. And again for governments.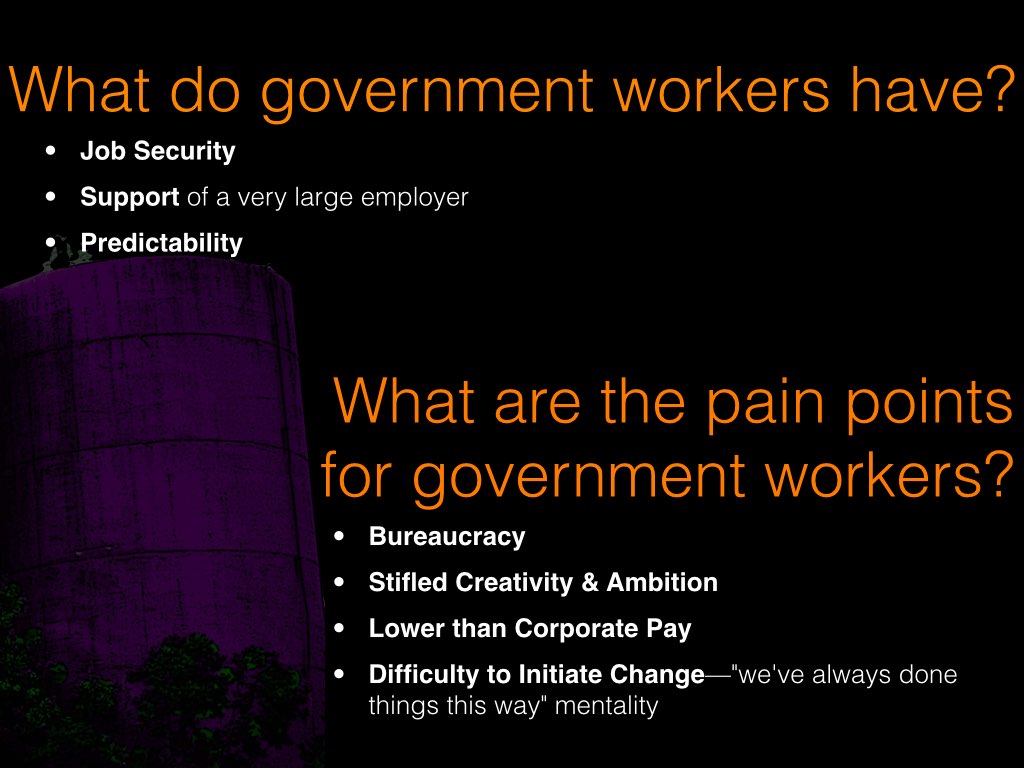 18. What do people who work for governmental agencies have? What do they need?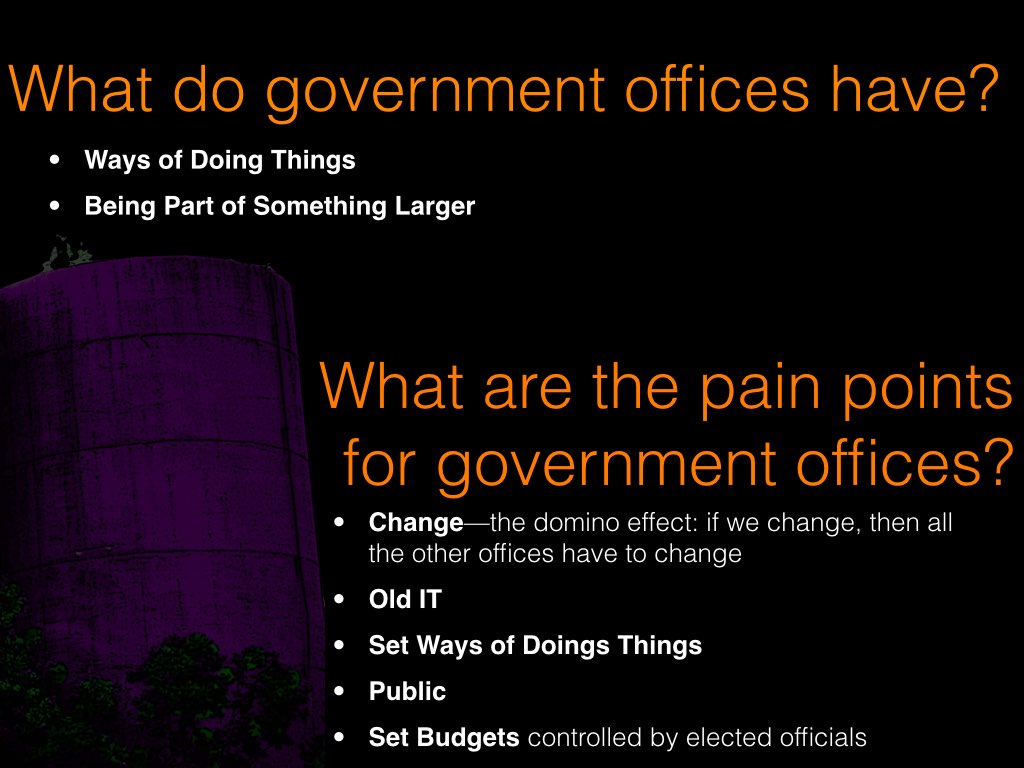 19. Have. Need. Want. These are just variables in our design problem.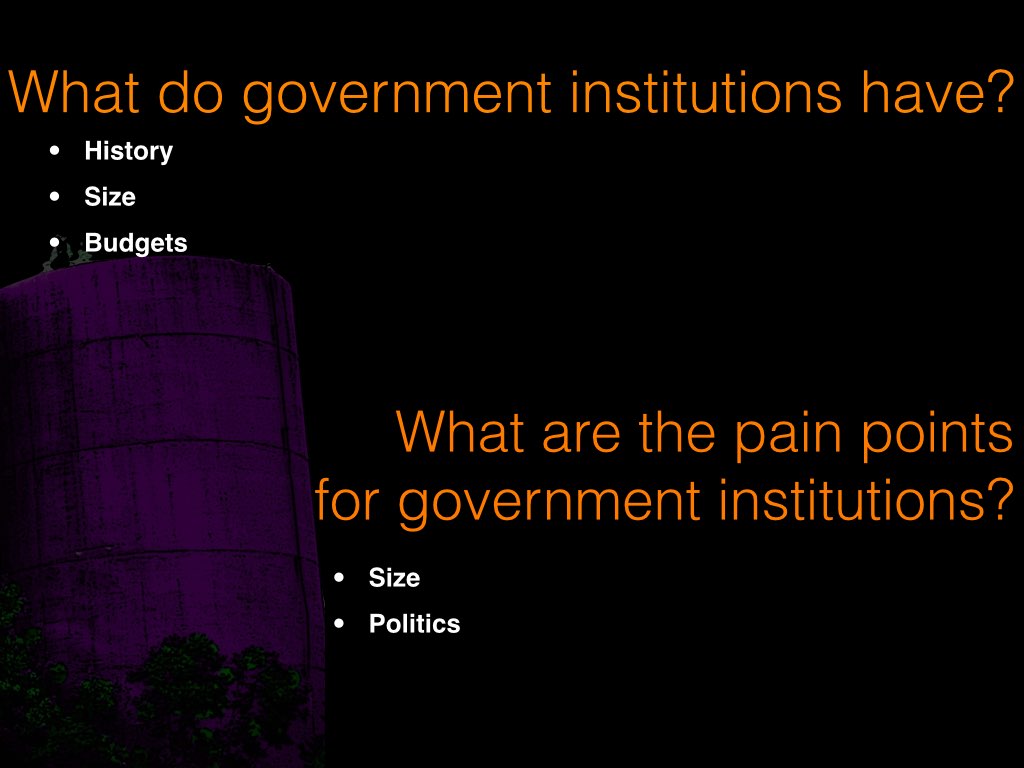 20.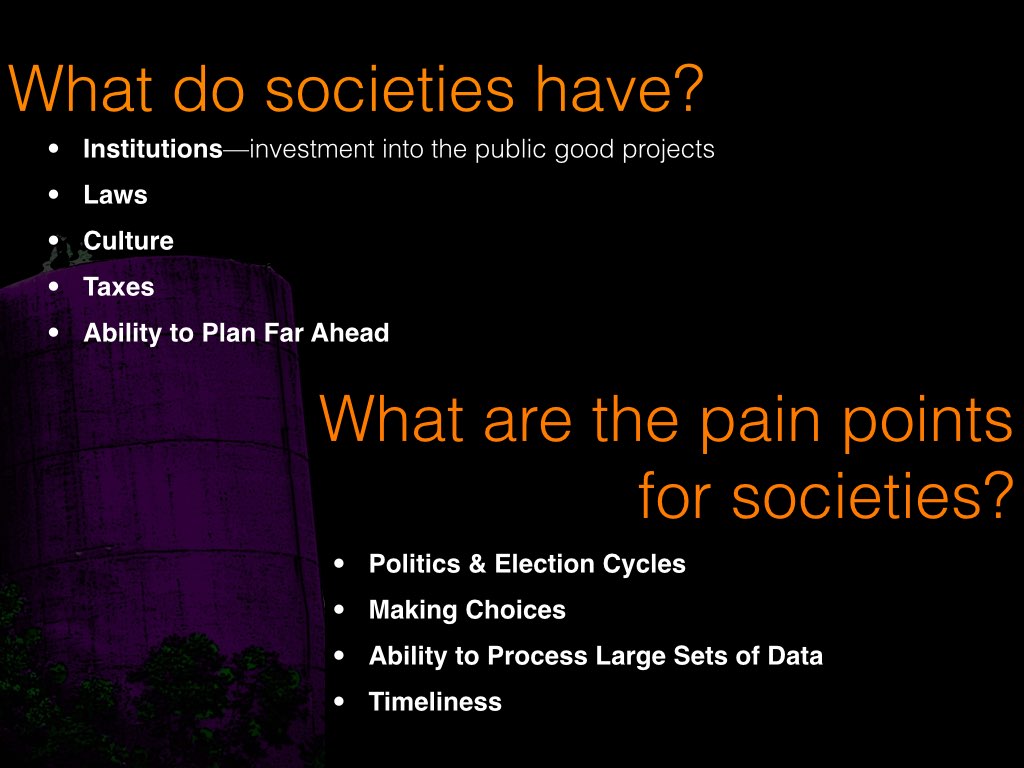 21.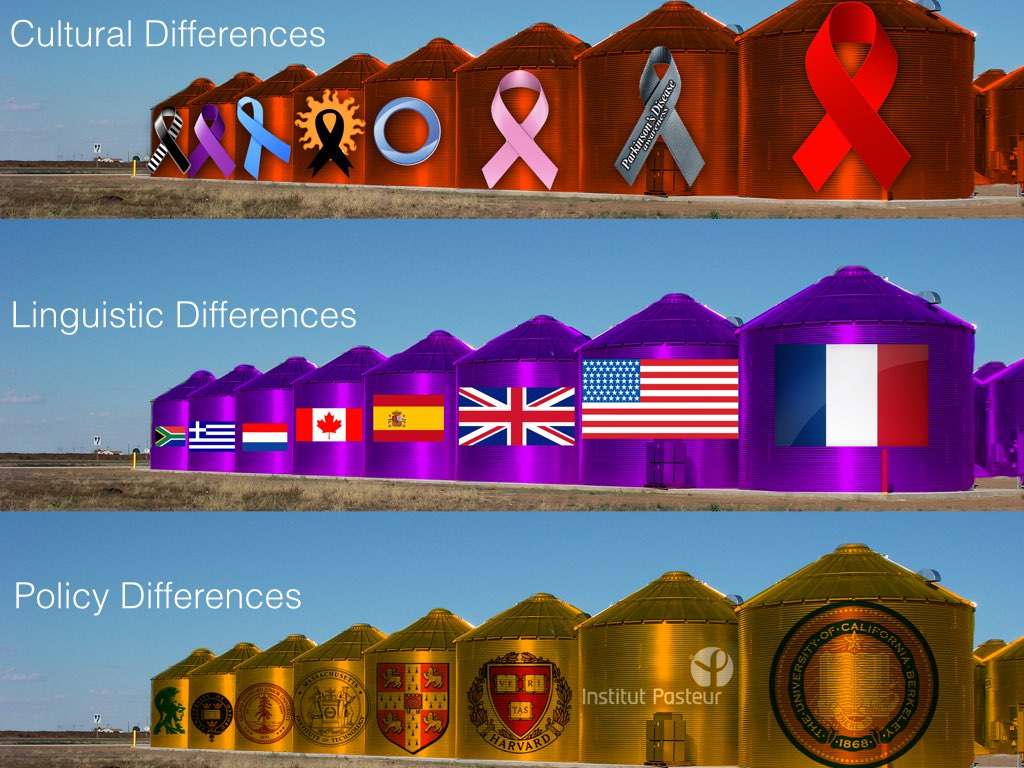 22. And, of course, data silos are not just identified by patients, and scientists, and governmental workers. Each university, each lab, each government, each patient group has to fight to get money and recognition and works under a set of cultural constraints and laws. There are cultural and linguistic and policy silos as well.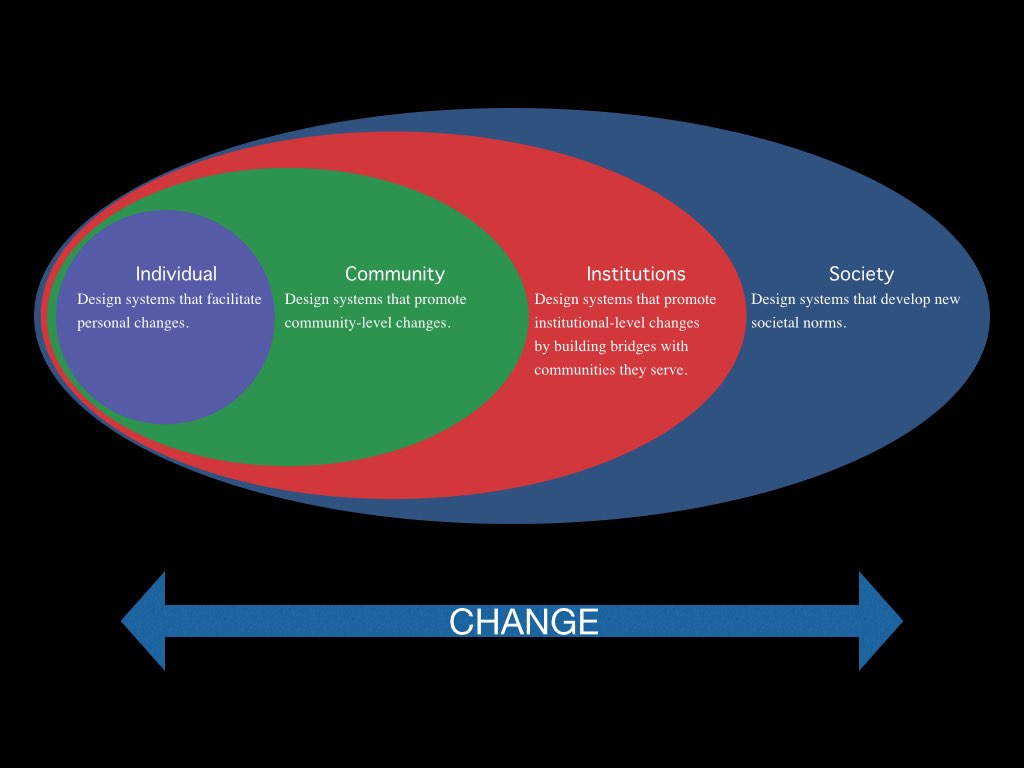 23. But we can make change happen.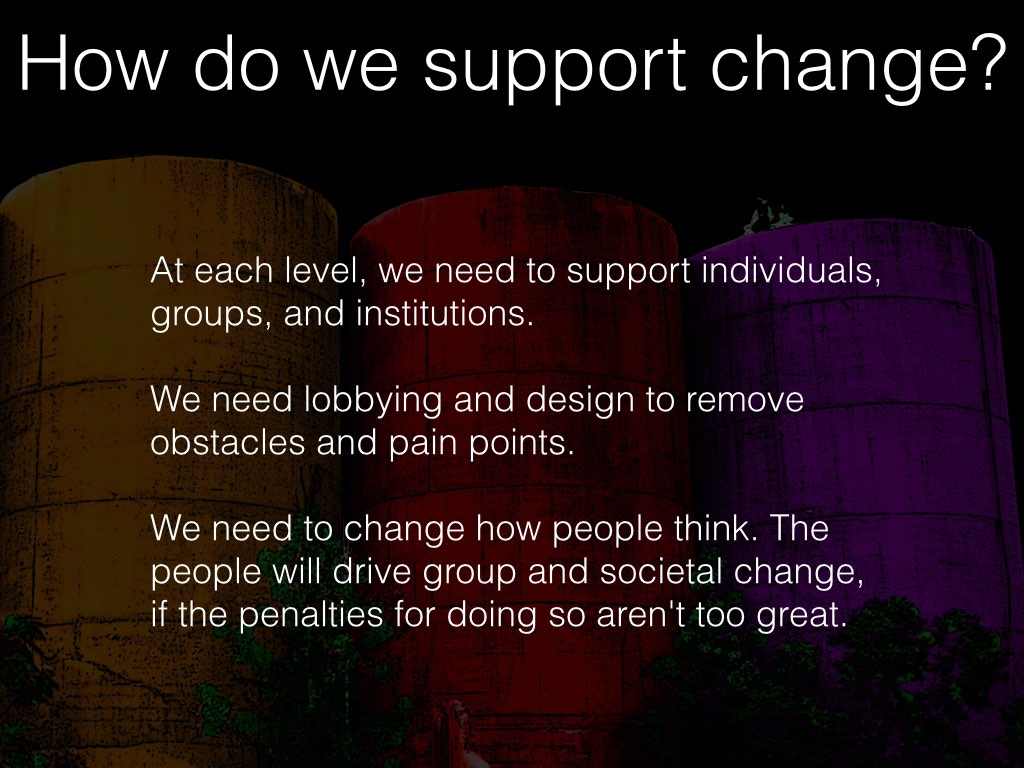 24. We can find social and technical and legal and educational solutions.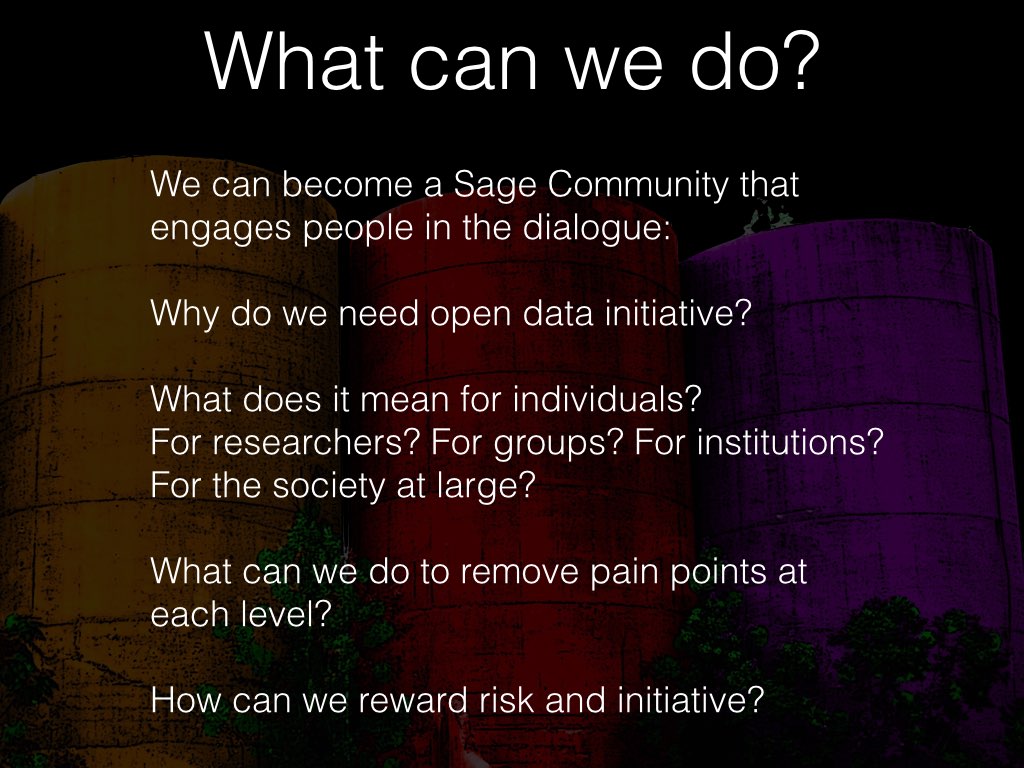 25. And here, in Paris, the Sage Community can start.
We can explain why the world needs open data initiatives.
We can layout what an open data initiative would mean to individuals, and labs, and schools, and institutions, and societies.
We can spell out the cost benefit analysis and try to remove the pain points that act as blocks to open data.
We can find ways to reward risk and initiative.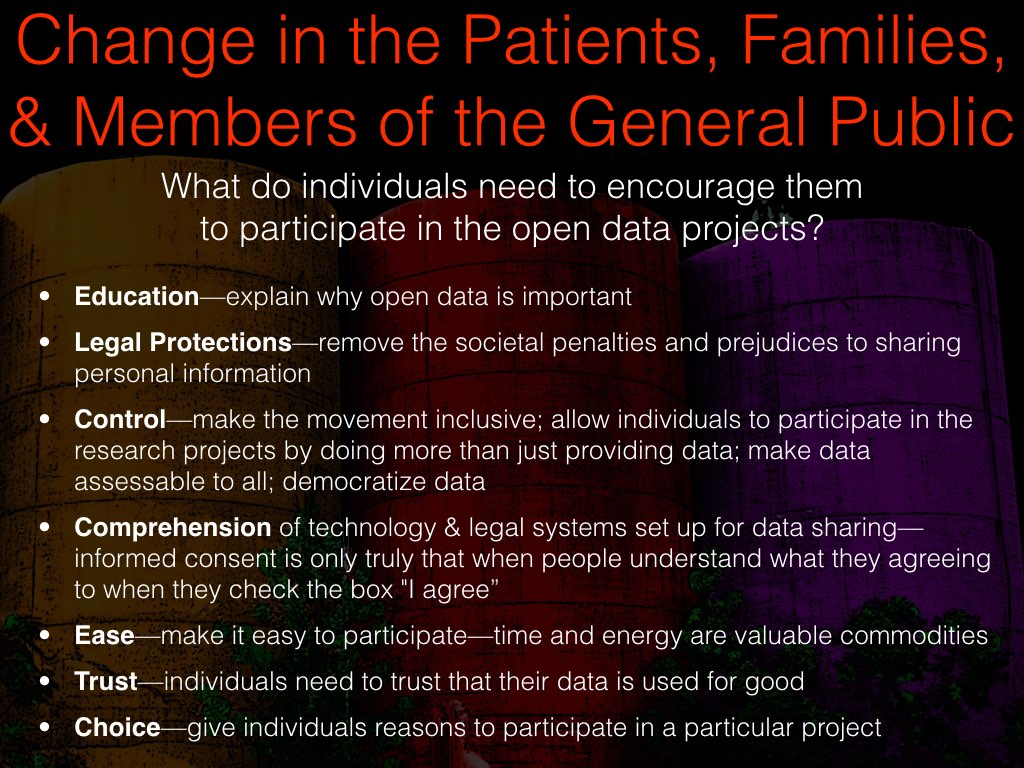 26. For example, if we look at the individual level, then to spark change we need to educate.
We need to create legal protection for people and their loved ones.
We need to give people control and allow them to participate in research.
We need to democratize access to data.
We need to find ways to compensate people. And to make it easy.
And we need to develop strong trust.
And finally, to give people choices about what and who to support.
And of course we need to make it fun! Make it rewarding! Gamify it!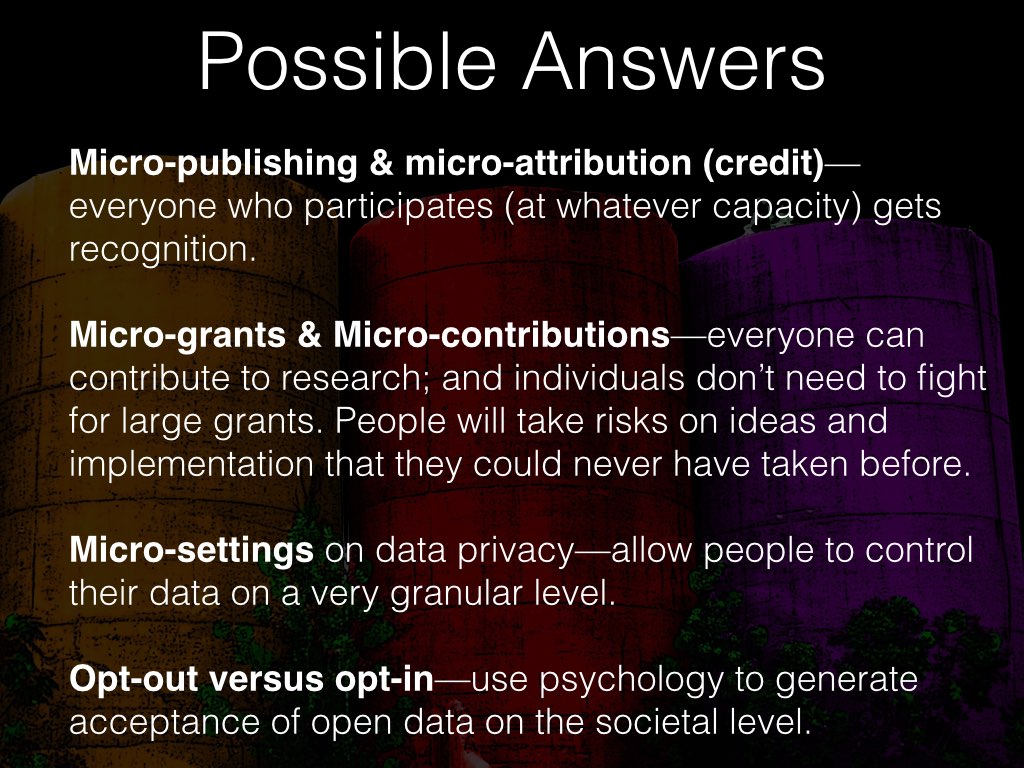 27. Here are just the earliest hints of some of the solutions:
Micro-publishing and micro-attribution — spread the credit. Make it easy for researches to give up control over their data sets. Give due to patients for the work of collecting their data.
Micro-grants and Micro-contributions — find ways to fund small and large ideas by the people who care the most. Patient groups now weald significant funds and influence. But individuals should be able to make choices as well — a research idea could be crowd-funded via micro-grants from individuals who passionately care.
And researches could be allowed to participate in small ways to help solve big problems — micro-contributions.
Micro-settings of data privacy — give as much control as possible to the people who are the data source. I think we would all be surprised by how willing people would be to give it all, especially if they knew they didn't have to.
And, one of the most standard ways we are able to compel large sets of individuals to contribute — the "opt-out" option. Organ donation is a lot higher in Europe which uses an "opt-out" option on their drivers license than in US where we use "opt-in". A simple check box saves hundreds of lives a year. This is a social engineering solution for good.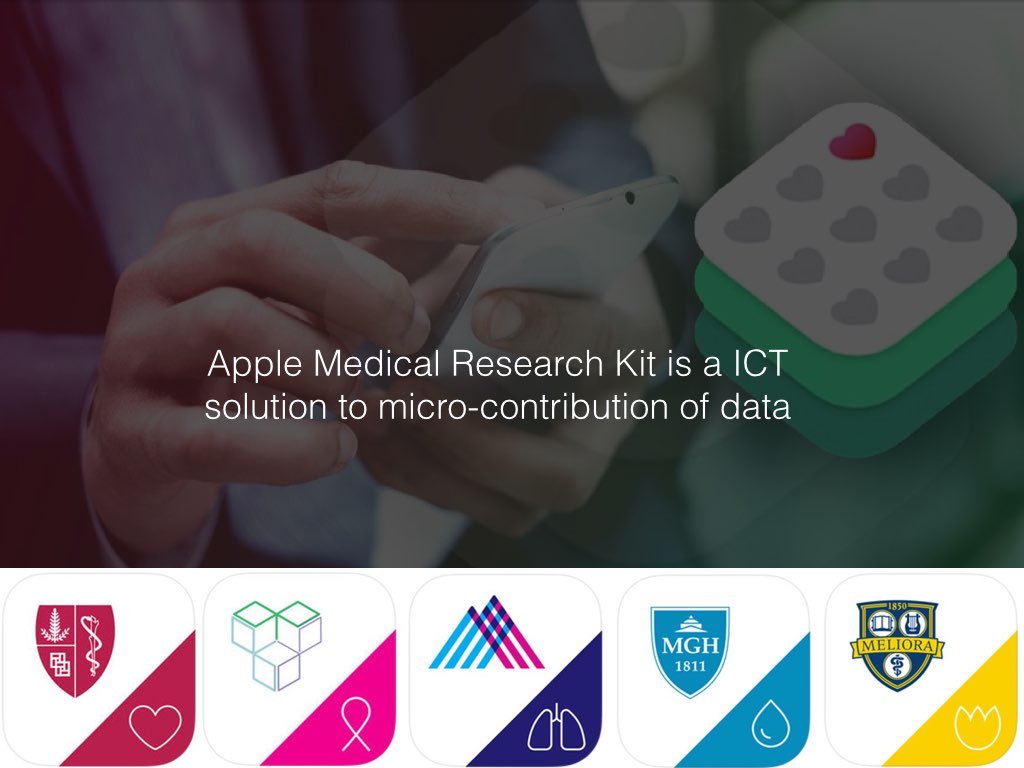 28. Let me end with a clear example of technology for good. Apple Medical Research Kit. I am so proud that Sage is one of the founding institutions that participated in the development of this ICT solution to data gathering and research.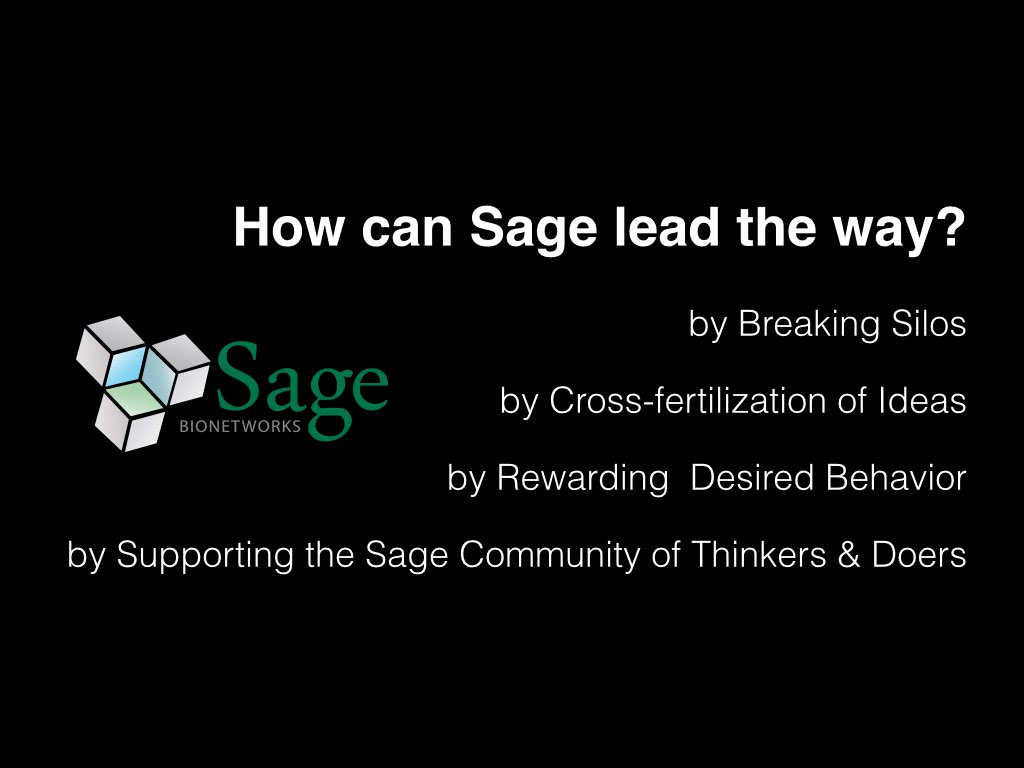 29. So here we are in Paris. And Sage is leading the way towards open data initiatives by cross-fertilization of ideas, by rewarding good behavior, by supporting our community…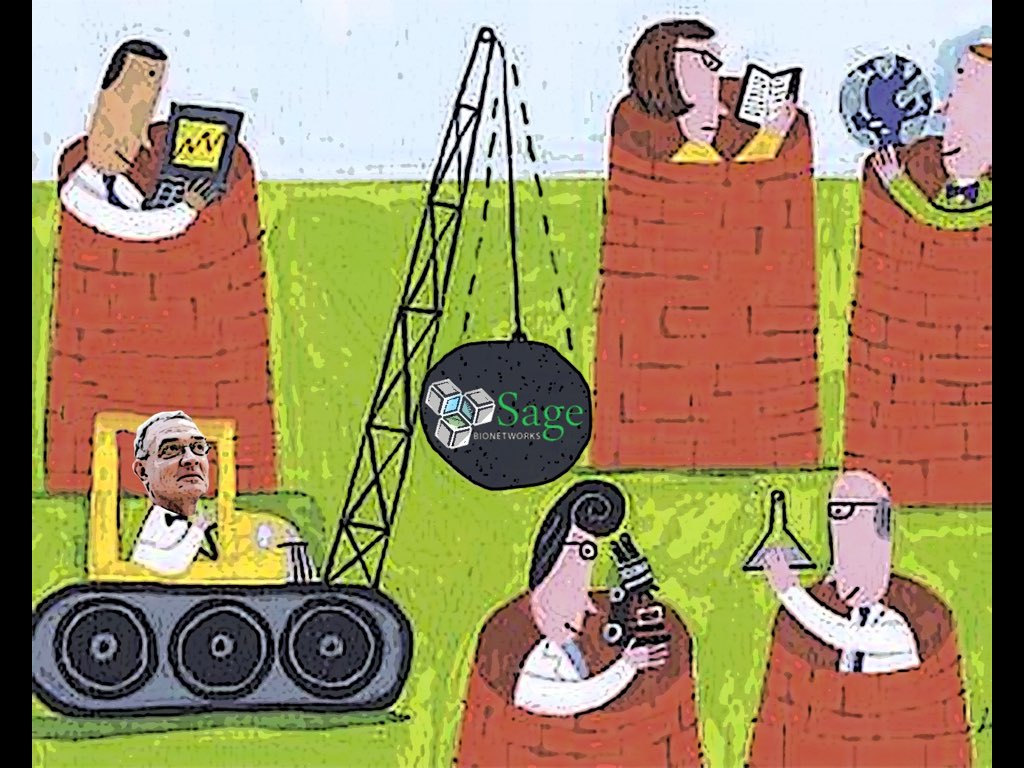 30. and by breaking silos.
The Sage Community is a shortcut to trust. We should all use it going into the future.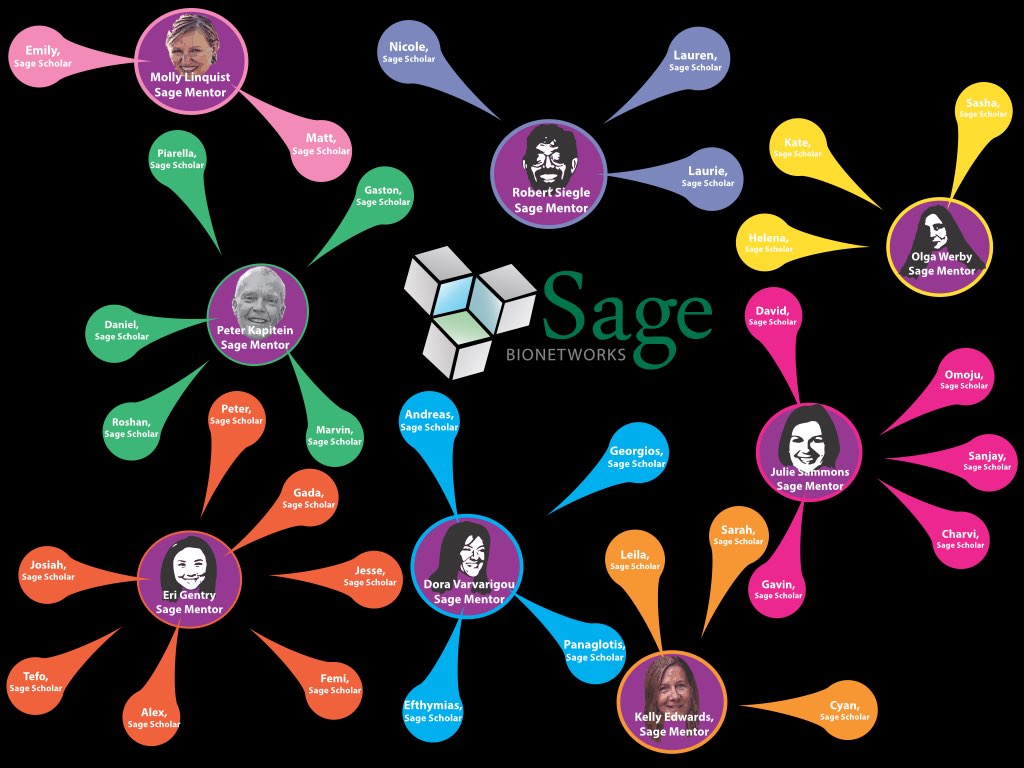 31. Before I end I just want to make sure I thank the amazing people who were our Sage Mentors. Eri, Kelly, Dora, Bob, Peter, Julie, Molly, all worked very hard to find incredible Sage Scholars some of whom we have met at the assembly. Can we please give all the Sage Scholars and Sage Mentors a round of applause, please!