I get a lot of email forwards…don't we all? And just the other day I got one that I have seen many times already over the past few years… Usually, you look, you smirk, you move on. But this time, the photo got me thinking: that poor kid — he has no memory of this shot, but he will be remembered for it for the rest of his life! The shot has long ago slipped from the close circle of sharing that his parents intended it for and has been widely distributed through out the world. Someday, this kid might even get it as mail forward himself: an adult man looking at a silly embarrassing moment that got away…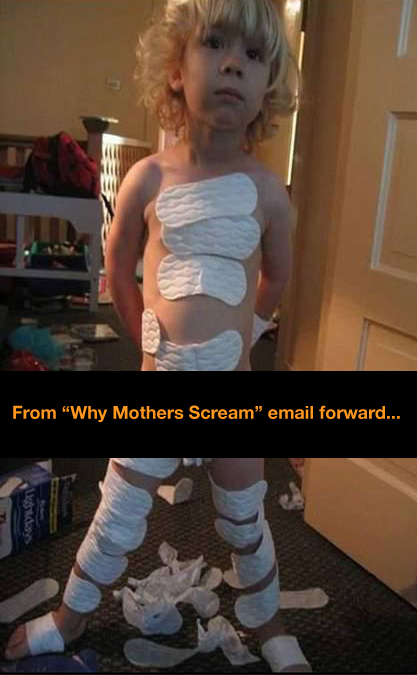 Information with Expiration Date
Somehow, I don't imagine that getting "an image that got away" of oneself would be a source of continuous pleasure. One might want to forget the whole thing… And it is not just images — although having images with expiration dates would be very valuable — there are loads of information that should be forgotten by design.
When my generation was growing up, the silly and stupid things we did didn't end up as data for public consumption for the rest of our lives. No one is able to search our "records" as teenagers to find badly considered plans or ideas that went badly. No one is able to find our embarrassing moments during a junior prom on Facebook. Our pain, embarrassment, and incredible stupidity faded back gracefully into history (for the most part). People of my generation got a second chance to reinvent themselves.
To forgive and move on, we need to be able to forget. But the Internet as conceived now makes this very difficult to do. Every stupid prank is right there for sharing with the world forever. How will this affect future relationships? Or job prospect? Or even credit? And god forbid if a kid ever has a run-in with the law — that black mark will forever stain the reputation, no matter how saintly before or after…
We have to start thinking about designing data and content to be forgotten after a certain period of time. And we can't rely on some services (like Facebook) to do that for us. The expiration date needs to be built into the data itself.