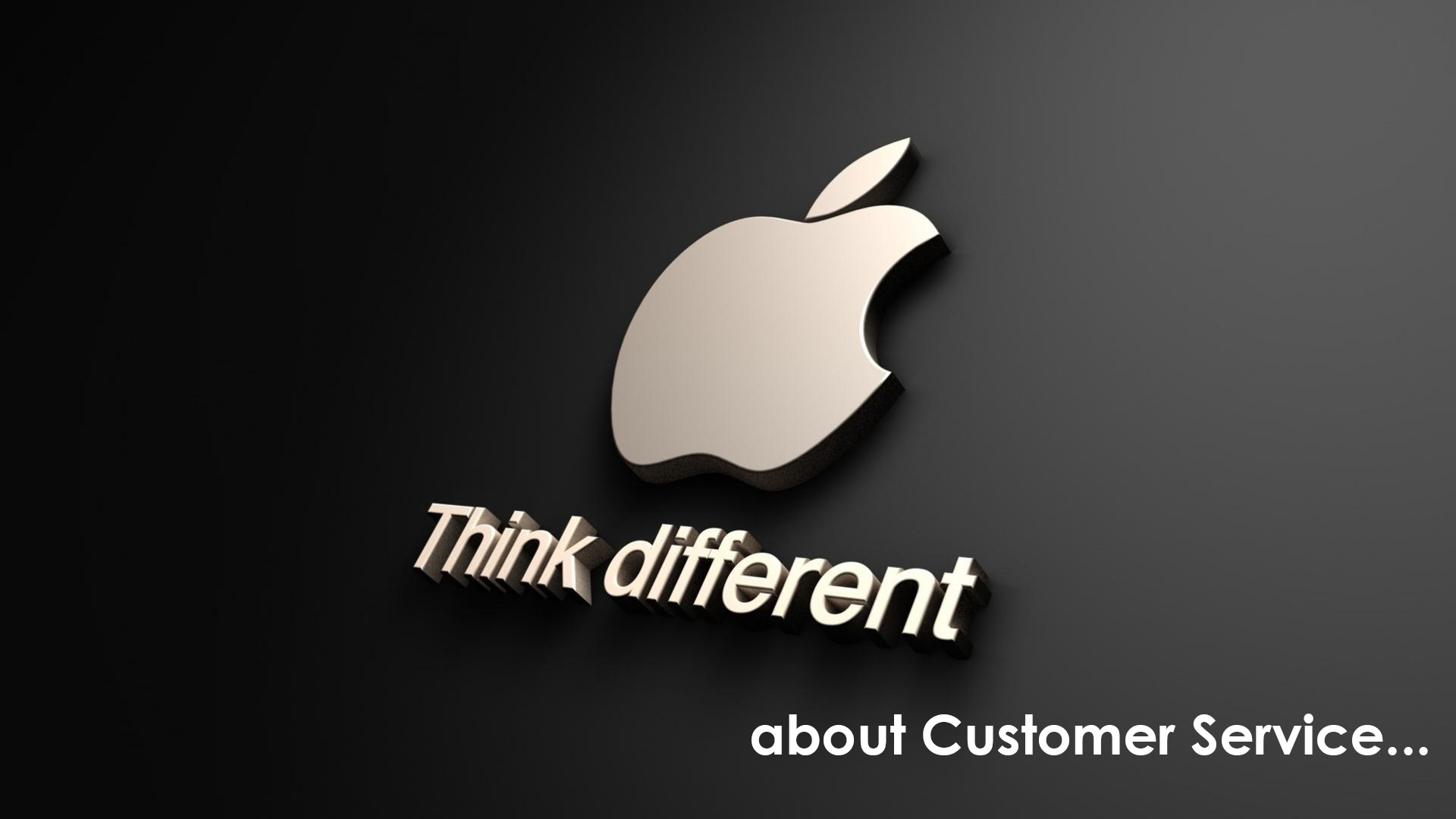 This last month, we had a bizarre customer service experience with Apple iTunes. It started on September 13th with a simple purchase that wasn't fulfilled. It ended with us angry and frustrated for no reason.
Apple was having a one-day promotion where they were selling movie bundles of 10 movies for $10 each. My husband couldn't resist and purchased three of the six bundles on Apple TV. But the movies didn't show up in our list of purchased movies. It's not the first time we've bought movies; our credit card was up-to-date. Something technical had just gone wrong. So the next day, my husband submitted a customer service request with Apple iTunes.
The Apple Customer Service rep said that he could see that the purchases had been made and said that other customers were having the same problem getting their purchases. He said that he would resolve the issue. But then, another strangely hostile customer service rep took over. He recanted what the previous rep had said, implied that my husband was a liar and said that he could tell that we had never purchased anything, and effectively told us to go get bent.
The customer service interaction with Apple was so strange and inappropriate, that we decided to share it here in full.
We're very disappointed with Apple over this. Below is the complete transcript of our interaction. Please pass it on — Apple should know that stiffing customers is just not acceptable. The rep who is acting in their name isn't doing them any favors in this case. And all of this is only over $30 that we were happy to spend!
September 13, 2016, at 7:47 PM, Christopher Werby submits form on Apple's site

Product

iTunes Store

Support Category

Purchases, Billing & Redemption

Support Topic

How to recover missing purchased items

Additional Details

Choose the iTunes Store or App Store for your country:

United States

Additional Comments

Yesterday, I bought three movie bundles (10 movies each) for the special price of $10 each. But they're not showing up in my purchased movies list.

September 14, 2016 at 10:53 AM from iTunes Support

Hi Christopher,

Thanks for contacting us. I understand that the three movie bundles you recently purchased are not showing up under purchased movie list. I know how important it is to be able to enjoy your purchases without complications. I will to look into this issue for you.

I do see that you have recently purchased three movie bundles; however I would like to inform you that Apple has received other reports of this issue and we are currently investigating. We appreciate your patience while we work to identify and resolve the issue as quickly as possible.

Once the issue is resolved I will definitely let you know.

In the meantime, please take care, and have a great day!

Thanks,

Avi
iTunes Store Customer Support

September 14, 2016 at 12:10 PM from iTunes Support

Hi Christopher,

This is Avi again from iTunes Store.

I would like to inform you that the movie bundles which you recently purchases were not successful as the issue is being investigated and you have not been charged. To confirm my words, you can review your iTunes account purchase history to find the actual amounts you've been charged for your purchases. To do this, follow the steps in this article:

https://support.apple.com/HT204088

For your inconvenience caused due to this issue, we have issued 10.00 USD store credit balance to your account. For instructions on how to see your iTunes credit balance, see this page:

https://support.apple.com/HT202359

If you don't see your credit balance listed or if it's incorrect, try signing out of iTunes and then signing back in again. This refreshes your account information.

I trust the information provided has been helpful.

Thanks,

Avi
iTunes Store Customer Support

September 14, 2016 at 12:12 PM from Christopher Werby

Hi Avi,

Thank you for the credit. But am I going to get the movies that I bought?

Best,

Christopher Werby

September 14, 2016 at 3:31 PM from iTunes Support

Hi Christopher,

Thanks for replying back.

As inform in my previous email, I have reviewed your account and confirmed that the purchase of the movie bundles were not successful, and hence, you were not charged for any of the bundles. You can view the actual items charged to your account from your purchase history:

https://support.apple.com/kb/HT204088

I sincerely apologize for the inconvenience this issue has caused you.

I would like to inform you that several of our customers are experiencing the same issue and we are currently investigating the issue to get this rectified at the earliest. Once the issue is resolved I will update you.

We appreciate your patience and continued support towards the iTunes Store. Have a wonderful week ahead!

Thanks,

Avi
iTunes Store Customer Support

September 30, 2016 at 3:12 PM from Christopher Werby

Hello,

I purchased three movie bundles at a special price of $30 for 30 movies. I wrote and was told that I wasn't charged for them. That's fine, but I want the 30 movies that I bought. The support messages said I would hear back, but it's been over two weeks and I haven't received the movies yet.

"I would like to inform you that several of our customers are experiencing the same issue and we are currently investigating the issue to get this rectified at the earliest. Once the issue is resolved I will update you."

When can I expect to find the movies that I bought in my account?

Best,

Christopher Werby

October 1, 2016 at 3:58 PM from iTunes Support

Hi Christopher,

Chris here from iTunes Customer Support. Your case has been brought to my attention and I have taken ownership.

I understand that you're unable to locate a purchase. If I was in your shoes, I would be reaching out for help in the same way as I would want to locate my purchase as well. I am more than happy to help by providing all the information I can.

I am reviewing your case now. I will be in touch within 24—48 hours with a resolution. Let me know if you have any questions in the meantime and I will be happy to help.

Regards,

Chris
iTunes Store Customer Support

October 3, 2016 at 12:50 PM from iTunes Support

Hi Christopher,

Chris again from iTunes customer support. Thank you so much for your patience.

Are the movie bundles that you wanted to purchase still for sale? If they are, purchase them again. If not, I am sorry, however, we will not have a way to provide them to you for the sale that was offered. Once a sale is over, we have no way of granting the sale price.

Let me know if you have any further questions and I will be more than happy to help with what I can.

I hope you have a wonderful day!

Chris
iTunes Store Customer Support

October 3, 2016 at 1:11 PM from Christopher Werby

Hi Chris,

There's a concept called "offer and acceptance". iTunes made an offer to sell me 30 movies for $30. I accepted and paid. The previous support person acknowledged that the purchase was made, but said that a technical glitch—experienced by other customers as well (and wholly within your control)—prevented the movies from showing up in my system.

Now you're telling me that you won't honor the deal that we made.

That's outrageous and unacceptable, and isn't worthy of the Apple company that I know.

The bundles are now priced ten times higher than they were when I purchased them, so repurchasing them is not an option.

Why don't you rethink your response?

I hope you have a wonderful day.

Best,

Christopher Werby

October 3, 2016 at 4:11 PM from iTunes Support

Hi Christopher,

Thanks for getting back to me.

I was just asking to see if the movies were still on sale or not, as you haven't mentioned what movie bundle it is and I have nothing to reference.

Can you please provide me with more information?

What movie bundles did you purchase? What happened when you purchased them. Did you get any error messages?

Let me know and I am more than happy to forward this to our engineering team for review. I cannot make any promises, but I will do my best for you.

I will be looking forward to your email.

Regards,

Chris
iTunes Store Customer Support

October 3, 2016 at 4:59 PM from Christopher Werby

Hi Chris,

These were your iTunes 10th Anniversary movie bundles, 10 movies each for $10 each, from major distributors. ref: http://appleinsider.com/articles/16/09/12/apple-features-10-movie-bundles-for-10-in-10th-itunes-movies-anniversary-sale

While I was sitting on the couch shopping and not writing them down, I think I purchased the following three:

Paramount's collection: "Whiskey Tango Foxtrot," "Selma," "The Wolf of Wall Street," "Flight," "No Strings Attached," "The Fighter," "Up In The Air," "Tropic Thunder," "The Curious Case of Benjamin Button," and "Zodiac."

Sony Pictures' collection: The Monuments Men," "Captain Phillips," "To Rome With Love," "Moneyball," "The Social Network," "Easy A," "Julie & Julia," "Nick & Norak's Infinite Playlist," "The Pursuit of Happyness," and "The Da Vinci Code."

Lionsgate bundle one: "Divergent," "Now You See Me," "Warm Bodies," "The Perks of Being a Wallflower," "Margin Call," "Warrior," "The Switch," "Kick-Ass," "Twilight," and "No Country for Old Men."

When I purchased them, I got no error messages. I did get standard confirmation messages—are you sure you wish to buy this?—to which I confirmed. I've purchased movies through the iTunes store in the past—and I'm a software developer by trade—so I don't think I made any obvious mistakes. The previous support person said that other customers were having trouble getting these bundle purchases as well.

Searching iTunes just now, it looks like the bundles are no longer available at any price. A day or two after the sale date, they were available, but at approximately $100 each. I remember congratulating myself on having made a good buy.

Best,

Christopher Werby

October 4, 2016 at 2:09 PM from iTunes Support

Hi Christopher,

Thank you for getting back to me with further information. I apologize for my first email to you. I misunderstood your situation as I didn't have all the details.

I have submitted your information to our engineering department for review. I cannot guarantee that we can get you these movies, however, I will certainly do my best for you.

I will be in touch within 24 to 48 hours with a resolution if not an update for you. Let me know if you have any further questions I the meantime. I am more than happy to help.

Warm regards,

Chris
iTunes Store Customer Support

October 13, 2016 at 7:51 PM from iTunes Support

Hi Christopher,

Chris again from iTunes Customer Support. I am so sorry for how long it has taken to get back to you. Our engineering team was backed up with requests.

They have fully investigated your claim and they show no authorizations or orders for the movies. The purchases were never completed and your request cannot be granted. I am sorry.

Thank you for your understanding. I hope that you continue to enjoy using the iTunes Store. Please let me know if there are any other issues giving you a hard time. I'll be happy to do what I can.

Warm regards,

Chris
iTunes Store Customer Support

October 13, 2016 at 8:10 PM from Christopher Werby

On September 14th, I received the following reply to my request for action after I didn't receive my purchases. This was the response:

Hi Christopher,

Thanks for contacting us. I understand that the three movie bundles you recently purchased are not showing up under purchased movie list. I know how important it is to be able to enjoy your purchases without complications. I will to look into this issue for you.

I do see that you have recently purchased three movie bundles; however I would like to inform you that Apple has received other reports of this issue and we are currently investigating. We appreciate your patience while we work to identify and resolve the issue as quickly as possible.
[emphasis mine]

As you can see, the representative could see that I purchased the three movie bundles. Therefore, your statement that you cannot find the orders is not credible.

I purchased the movies. They didn't show up. The next day, I sent a request following up. The agent confirmed the purchases and said they would look into it. And there were other reports of similar problems. Now you are denying that I made the purchases.

The issue was on your end. I did everything that I was supposed to and yet didn't end up with the movies.

I am very unhappy with this. Really, you need to fix this.

Best,

Christopher Werby

October 13, 2016 at 8:30 PM from iTunes Support

Hi Christopher,

Thanks for getting back to me.

When the agent said the they see you have purchased movie bundles, they were simply confirming what you said to them. They only saw this in the email that you sent to us. I apologize for this, it should have been worded to you differently.

I am sorry, our engineering department has thoroughly investigated this matter and the results I have provided you are accurate.

We take customer feedback seriously. To submit your feedback, see this page:

http://www.apple.com/feedback/itunesapp.html

I am sorry I am unable to provide you with your desired outcome today. Let me know if you have any further questions and I will be happy to do what I can for you.

Regards,

Chris
iTunes Store Customer Support

October 13, 2016 at 8:42 PM from Christopher Werby

When I contacted you the day afterwards and reported the issue, do you think I was lying about whether I purchased the bundles? When the agent said that other customers were having the same issues, was he lying?

This isn't right and you know it. I purchased three movie bundles and you're pretending it never happened.

Your response is basically "Go away." I expect more from Apple with their focus on customer satisfaction and customer experience. I purchase thousands of dollars of Apple products every year–sometimes tens of thousands. Perhaps I should rethink that. And I'll be happy to share my story with everyone I know.

This is a good way to turn a loyal Apple customer from 1995 onwards against you. I supported you through the Gil Amelio years.

October 15, 2016 at 3:53 PM from iTunes Support

Hi Christopher,

Thank you for your email.

I'm very sorry, but I must confirm that the movie bundles do not show as having been purchased from your account. We have gone through your account multiple times, and have even confirmed with our engineers: there were no purchases, nor any authorization attempts associated to your account for the movie bundles.

All purchases show in your purchase history, and cannot be removed, altered or adjusted, even by us.

If there had been a purchase made, it would have been listed in your purchase history from our side, as well as from your own. A HTML invoice would have been generated, and you would have received it at the email address listed to your account.

I do apologize for the misinformation provided by Avi previously, as he may have been working from a response meant for another customer, however we must confirm that no purchases for the bundles have been made, no payment received.

As a result, we cannot restore that which has not been bought, nor can we compensate you for the misunderstanding, nor the original issue.

Take care,

Chris
iTunes Store Customer Support

October 15, 2016 at 3:58 PM from Christopher Werby

When I pressed the "Buy Bundle" button and then confirmed that I wished to make the purchase on my Apple TV, I did everything that I could do to buy the item. What more should I have done?

If I hadn't bought the items, why would I have sent in a service report the next day?

This whole interaction has been bizarre. I made a purchase through your system which your rep acknowledged and said that it was broken. You should give me the items that I purchased and say "sorry". I can't imagine Amazon treating me this way.

October 16, 2016 at 12:36 PM from iTunes Support

Hi Christopher,

I am sorry I am unable to provide you with your desired outcome. I am confident I have provided you with all the information I can regarding this request.

Let me know if there is anything else giving you a hard time and I will be more than happy to help with what I can.

Warm regards,

Chris
iTunes Store Customer Support

October 16, 2016 at 3:58 PM from Christopher Werby

Hi Chris,

Can I speak with your supervisor please?

Best,

Christopher Werby

October 17, 2016 at 10:10 AM from iTunes Support

Hi Christopher,

Please note that Apple has empowered me to provide you with this information and I will be the highest point of contact for this case.

I am sorry, however, since I have provided you with all the information I can regarding this, Apple considers this case closed. Any further requests of this nature may not receive a response.

Let me know if there is anything else I can help you with and I will be more than happy to do what I can for you.

Take care,

Chris
iTunes Store Customer Support

October 17, 2016 at 10:15 AM from Christopher Werby

I guess it's time to publish this interaction online.

Can you confirm which story you're going with? When Avi confirmed that he saw that I ordered the movies, was he "working from a response meant for another customer" or was he "simply confirming what you said to them"? I'd like to get it straight.

Looking forward to sharing my story.

October 17, 2016 at 10:52 AM from iTunes Support

Hi Christopher,

I cannot speak for what was going through Avi's mind when he wrote that email to you. All I can confirm is what Avi was seeing in your case when he wrote it to you. In my opinion, he was confirming back what you wrote as there are no transactions on your account.

I had a colleague review this case with me and they suggested that Avi may have been working from a response meant for another customer. So, I though I would suggest this to you as a possibility. That is all, a possibility, not a fact. I am not making up stories, I am only providing you with facts and possibilities.

I hope this clears everything up for you.

Chris
iTunes Store Customer Support