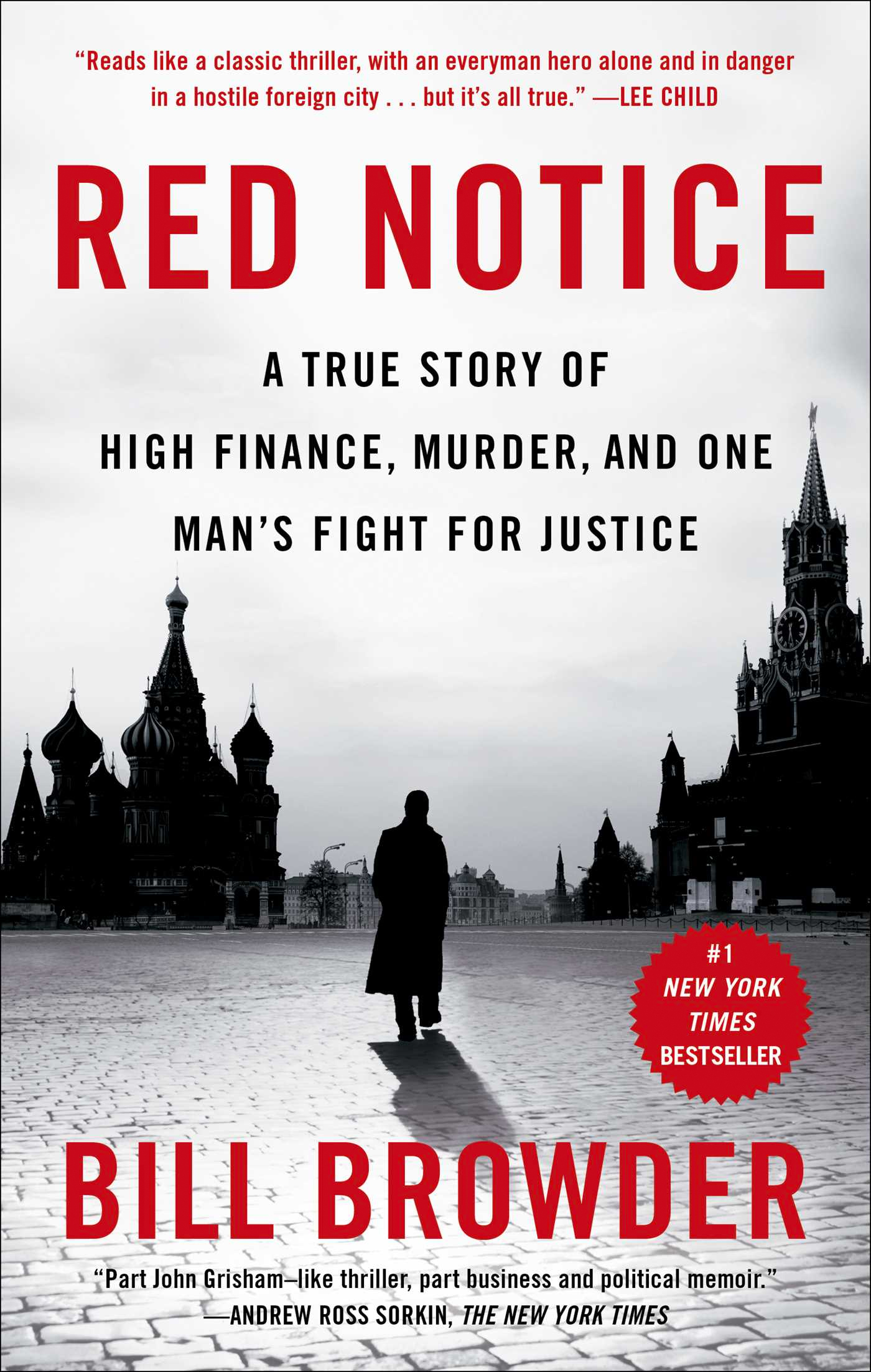 I work with human rights groups and with the International Criminal Court. Some of the background materials I have to read are heartbreaking. It takes me days to get over the reports of child abuse in Eastern Europe and the descriptions of mass rape atrocities in the Congo. I cry. It feels personal. I try not to read… For entertainment and emotional solace, I dive into science fiction or pure science books. I read constantly. But I don't usually read political thrillers or autobiographies. "Red Notice" was different. The story felt personal, and the book came very well recommended.
I'm a Russian Jew. I came to US as a refugee in the late seventies. While I was a teenager when my family left, I'm of "that" generation — the generation that is hesitant to believe good things coming out of Russia. Members of my family were beaten, shot, and killed there… It's hard to "move on" after that. I've never been back. But some of my family have. And some even did business in Russia and its former republics. In 2015, one of my cousins (by marriage) was taken into custody in Bulgaria while on a family cruise vacation. He was held up by a Red Notice. (You can read all about his story here: FreeLen.org) He was falsely accused of crimes he never committed on a trumped up charges fabricated to make some powerful people more money and more power. It was a horrible ordeal. Thankfully, he and his family managed to get back home to Santa Barbara after several horrific months in jail and fighting the international warrant system. Len recently testified in front of the Tom Lantos Human Rights Commission, House Committee on Foreign Affairs. Among other people giving witness was Bill Browder.
In his own words, Bill Browder is an accidental human rights activist. He started life a investment broker looking for golden opportunities in Russia and other Eastern Block nations. His life changed when he encountered incredible corruption, on unimaginable scales, perpetrated by the highest people in power in Russia. His fight to end such corruption turned murderous, when one of the lawyers working for him in Moscow was detained and then killed by the police — Sergei Magnitsky. This murder was sanctioned by the Russian State and committed with full knowledge of Vladimir Putin and Dmitri Medvedev, among many other judges, police chiefs, ministers, and others that hold Russia in a grasp of absolute power.
Here in the West, we get scary glimpses of Russian grip of terror. We rarely have first-hand experiences. We read of poisonings and murders and torture like we read some Brothers Grimms Tales — scary, but not really about us. Bill Browder story offers another perspective on reality. He ties together facts and incidents, that we casually pass by while reading the headline news, into a gripping tail of horror. "Red Notice" reads like a mixture of a spy novel and an international thriller. But it's all real! It's story that everyone should know about, everyone should read. It's shocking. It's mind-blowing. And I cried most of the way at the end…
I can't recommend this book strongly enough:
And here are some relevant links:
http://russian-untouchables.com/eng/ — a site maintained by Bill to keep track of corruption. There is also a Russian language version.
https://www.youtube.com/user/HermitageTV — Hermitage TV is a YouTube channel set up by Bill and his collaborators that includes the videos described in the book "Red Notice."
"Russian lawyer's death an act of revenge?" video of news coverage after the death of Sergei Magnitsky.
"Cinema for Peace Award for Justice 2012" video of the prize awarded to Bill and his documentary film crew.
Statement of William Browder to US Congress House Committee on Foreign Affairs video.
Russian language version of the book: http://www.billbrowder.com/Portals/0/downloads/Browder_Red%20Notice_RU_FINAL.pdf