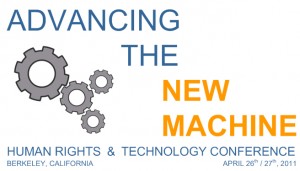 It's been a few days, and I now have some time to write down my impressions of the Advancing the New Machine Human Rights Conference held in Berkeley last week.
Like all conferences, some presentations were amazing, and some not so much. But overall, Berkeley Human Rights Canter did a great job of fitting a lot of interesting speakers into a two-day program. Most of the time, there were two sessions running at the same time—I found that annoying, since I wanted to be at two place at once on several occasions! But I got to talk to many presenters and was able to download their slides. I've asked permission to share a few of those slides with the ICT & Human Rights group on LinkedIn, which is what I'm doing with this blog. Please note that I'm only posting what I found to be particularly interesting to me and to the members of ICT & Human Rights group.
UN Global Pulse
This was one of the first presentations of the conference, part of the "Ignite Talks." The speaker was Robert Kirkpatrick, Director of UN Global Pulse. Robert talked about how cell phones can be used to monitor population's well being. His hypothesis is that we should be able to see change in mobile phone use (how much people spend, where they call, migration patterns, etc.) when the population is under stress. This information can help UN (and other institutions) to develop a strategy and solution as crisis rolls in.
Currently, by the time we even notice a problem, the population under stress suffers irreversible harm. Robert made the following time progression of a disaster:
Crisis —> People Economize to Mitigate Economic/Political/Social/Environmental Pressures —> People Start to Deplete Their Resources —> Next Comes Sacrifice —> Populations Suffers Irreversible Harm
Mobile phone data can "catch" the problem before it progresses to that last phase.
Here's two of Robert's slides: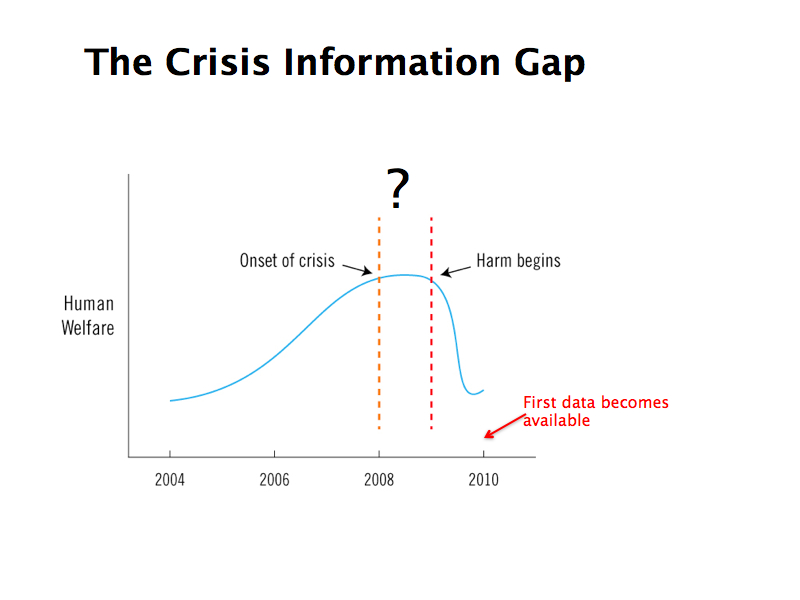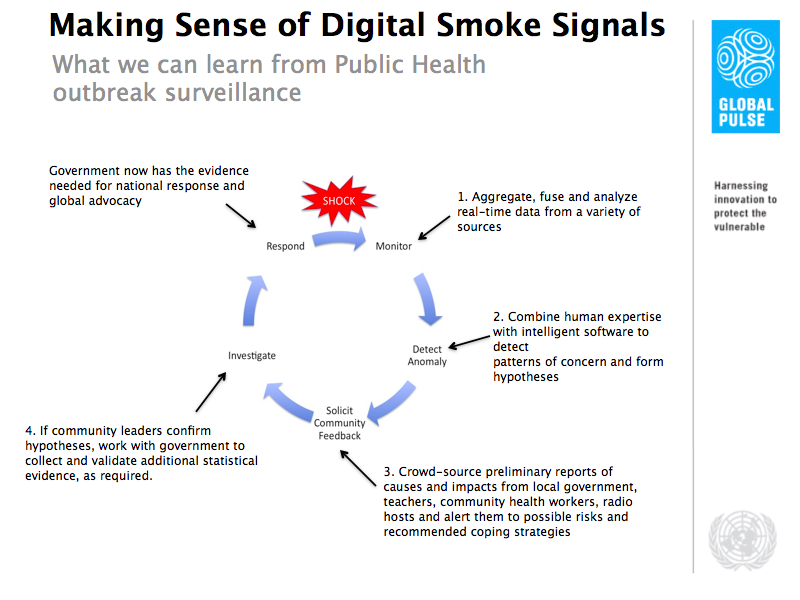 UN Global Pulse project looks very promising. Please visit their site to learn more.
Mobile Data Collection
The ideas of security and privacy protection came up again and again during the conference.
Katrin Verclas from MobileActive.org came with this list of helpful questions to ask about the mobile service and phones:
What data is stored on the phone? Is it encrypted?
If data collectors use an application on the phone, is access password-protected? How is the password checked – against a record on the phone, or on an external server?
Is data transmission secure? If data is sent over the Internet, does it use https? If data is sent over SMS, is it readable?
Is the receiver positively identified, for example by an SSL certificate?
Is the server in a secure physical location?
Is the server protected against virtual intruders?
Is data on the server stored in encrypted form?
What identifying information (names, passport or national ID numbers, patient identifiers addresses, mobile numbers) is stored? Does it need to be kept?
Do third parties (e.g. advertisers, server administrators) have access to the data?
What is your policy on requests from law enforcement to access the data?
While all of this is common sense, it's good to have these questions listed together like this. The organization also has a lot of interesting information on its site—worth a visit!
Niel Hendrick and Gaentano Borriello spoke about how to collect data using cell phones. In particular, they demonstrated Open Data Kit (ODK) and Kobo Forum Designer which uses ODK. The important this to remember here is that it is all about WHAT information you want to gather. As my mathematics professor used to say: "solution exists"—technology is usually the easy part. Although in this case, Niel and Gaentano have great tools and there's no point in reinventing the wheel. Below is a slide from their presentation showing ODK-based products in use today.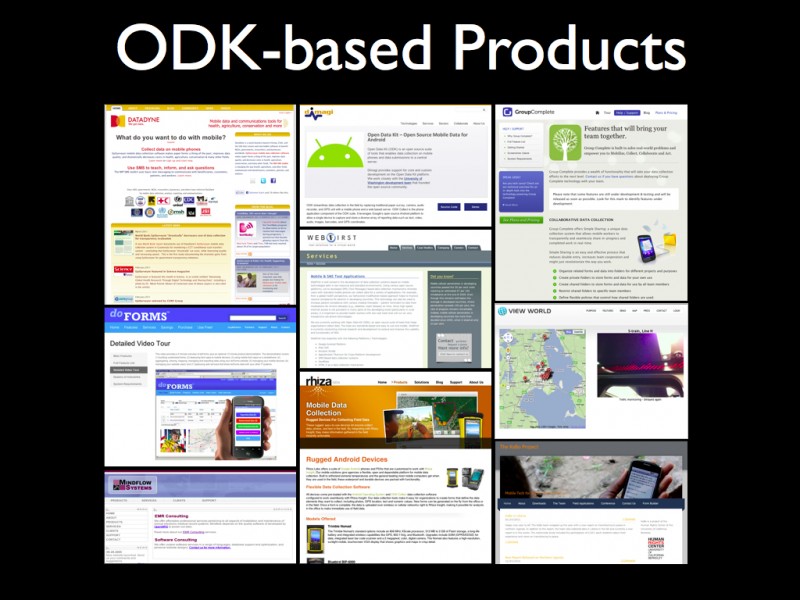 Disaster Response
Jennifer Chan, Harvard Humanitarian Initiative, John Crowley, Harvard Humanitarian Initiative / STAR-TIDES, Steven Hansch, Institute for the Study of International Migration, and Patrick Meier, Ushahidi made up the panel for the Disaster Response.
Here are a few highlights from their talks. John Crowley: 5 billion mobile phones in the world today! Velocity and volume of information has increased dramatically. Need to develop tools to manage data and to link data to data (to relate data to each other). His presentation showed an amazing video of map of Haiti that was built over the few days after the earthquake by volunteers.
I couldn't find the map John used, but here's another version:
Here's another one (turn off the sound).
Some of the problems that John raised:
Sense-making: need practical information between data and need on the ground
Problems: need data verification, translation, security
Patrick Meier talked about his new venture: Standby Volunteer Task Force. He saw the need to legitimized the thousands of volunteers that work to help map crises on the ground. This is a network of 500 or so skilled volunteers from 50 countries that can put up a crisis map fast. UN asked Patrick to activate the Standby Volunteer Task Force for Libya to get real-time information. Cool quote: "it's like having your own helicopter to a disaster…"
Patrick is developing "Check-in's with a Purpose"—instant maps. He's working on developing a guide on methods for live mapping in a hostile environments.
Jennifer Chan described a simulation that Harvard Humanitarian Initiative runs to train individuals to work "on the ground" during a crisis. Students spend a week in a wilderness (someplace around Boston) and collect data, interact with population in crisis, make decisions and recommendations to aid agencies. I wonder if a virtual version of her simulation can be developed to help Patrick train his Standby Volunteer Task Force.
Data and Database Management
The most interesting speaker was Brent Woodworth, Sahana Software Foundation/Los Angeles Emergency Preparedness Foundation. He works to match help with need. They try to get aide on the ground within a day or two of the crisis-precipitating event. Very impressive organization.
The scariest speaker was Megan Price of Benetech. Quote of the day: "bad data is worse than no data." She stressed the need for multiple data sources and cautioned against making statistical inferences (drawing conclusions in a novel case based on past experience).
Early Warning Systems
This was an interesting group:
Scott Edwards: Model + Data + Agency = Early Intervention. The more established the agency, the less time it needs to establish operations on the ground. Scott talked about various models: structural-macro level of data (these models don't predict much change because they focus on continuity); single-process time series (finer data and shorter time scale—very hard to generate a usable model); game theoretics (deal with agents and need external validity). Scott stressed that individuals are opportunists and act in their own self-interest, acting on information regardless of its validity. Varsity of early warning in not important to people who believe and act on it (based on points on crisis map). It seems to me that it would be very easy to manipulate crowds…
Scott's recommendation: use all models for better accuracy in making decisions in planning for a crisis response.
Wilfred Gray-Johnson praised Ushahidi a lot…
Nate Haken stressed that Conflict Assessment doesn't equal Early Warning. This is even more true for Conflict Forecasting. His recommendations are:
Insure relevance to context
Insist on consistent and sustained participation
Link early warning to early response
Do no harm!
Create a local hub for local ownership/sustainability
Be clear on what data does and doesn't do
Two years ago, The Soul of the Machine conference had a presentation by a Salesforce Foundation which talked about using its software by charitable organizations. Michael Poffenberger described Crisis Tracker—first geospatial alert place for atrocities committed in Africa—which runs on Salesforce software.
Diffusion of Innovation
This was my panel, and I presented the UCLA's Human Rights & International Law Online Forum. You can see my presentation almost in full in a previous blog post.
The other presenters were Sasha Costanza-Chock, Berkman Center for Internet and Society; Stephen Humphreys, London School of Economics; and Scott McNeil, De Novo Group.
Scott runs a foundation that is "bridging this gap, helping to turn proven research and prototypes into globally distributed, royalty-free products". Contact him if you have some great ideas!
Sasha talked about his approach to developing products:
SUDO: Strong connection to community; Universal access to technology of choice; Diverse project team; and Open source.
Universal Design Goals (APT): Accessible + Para + Tod@s
Codesign Philosophy (GET): Generate ideas + Evaluate prototypes + Together
For those in on the joke: SUDO APT-GET …
And finally, Stephen Humphreys talked about human rights and climate change. He works with Geneva International Council on Human Rights Policy. He talked about the treaty signed by 160 countries that expands on the initial human rights declaration: ICESCR. Very interesting…
There was so much more, but I'm sure others will share their experiences as well. Please feel free to add information (or point out errors) by posting below!